MedMe Background
While doctors and hospitals can be hard to access most people live within 15min commute to their nearest pharmacy, making it a more accessible form of healthcare. MedMe is an all in one cloud based software solution built to empower pharmacies to deliver services at scale. During the Covid-19 pandemic over 60% of all pharmacies across Canada were using MedMe to schedule, document, and administer Covid-19 Vaccines and Covid Testing. MedMe's goal past the pandemic was to expand its scope of services to help pharmacies expand their own scope of services to take advantage of their increased number of patients post covid.
Project Backgound
Starting January 1st, 2023, pharmacists in Ontario are authorized to prescribe medications for minor ailments. This list of authorized health conditions includes things like urinary tract infections, insect bites, and menstrual cramps. Minor ailments are defined as health conditions that require minimal treatment or self-care strategies. Pharmacists have been helping patients identify these health conditions for some time, but were previously limited to suggesting non-prescription treatments or referring patients to other healthcare providers. This change should reduce the burden on doctors, walk-in clinics, and local hospitals, while also allowing patients to get treated more quickly and efficiently. Hopefully this will improve the overall efficiency of the healthcare system and patient experience. One of the biggest challenges for this project was the unclear guidelines from the regulatory parties on the specific scope of practice and reimbursement strategies.
Our Goal: Empower Pharmacists to provide Minor Ailments Consultations
Project Team
Product Manager
Lead Product Designer(Me)
Engineering Tech Lead, 1 Frontend Engineer, 1 FullStack Engineer
Tools
Empathize
Personas
As always, the first step is to understand the user and their paint points. We talked to several of our customers and were able to create three personas based on that study.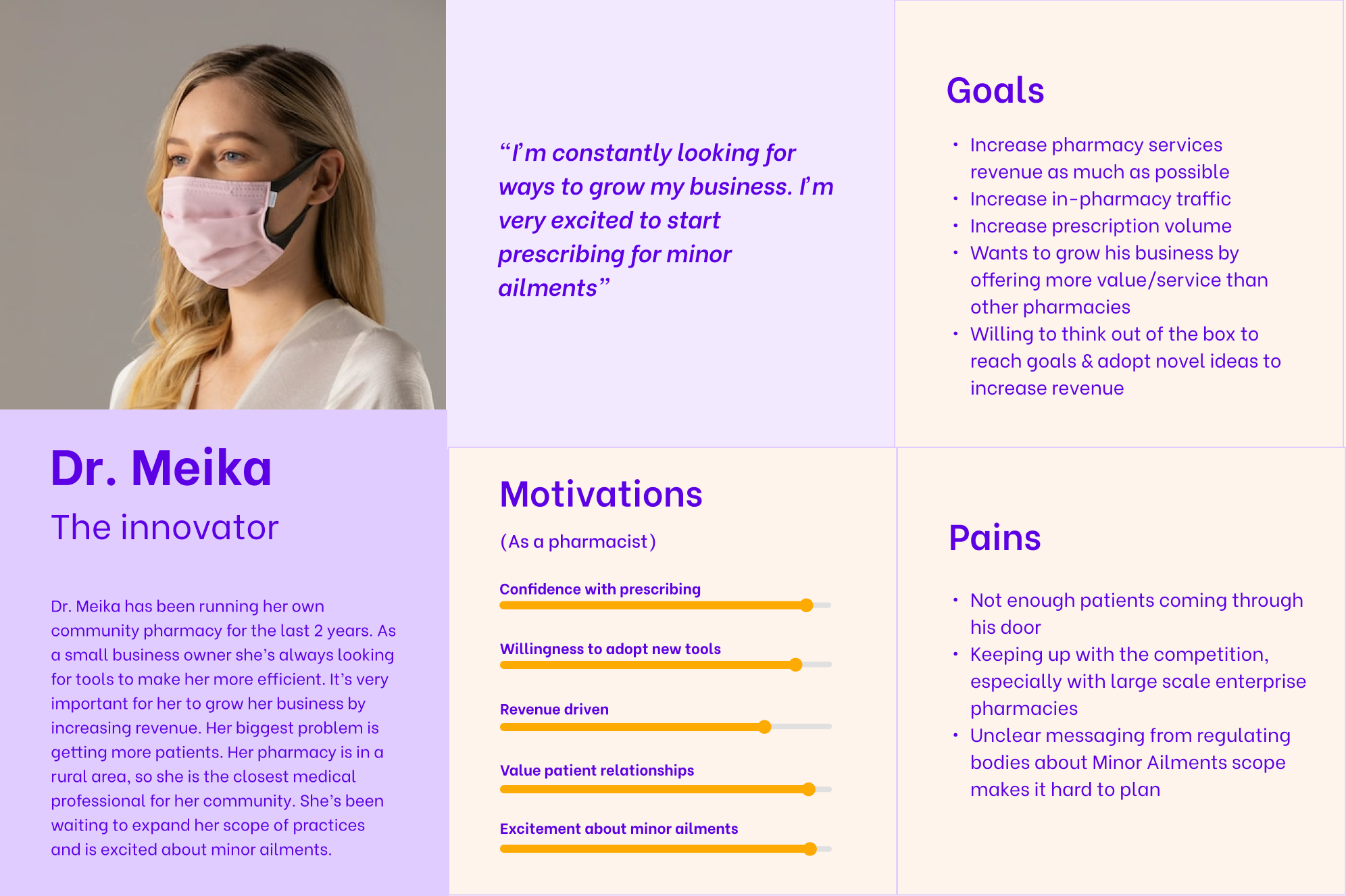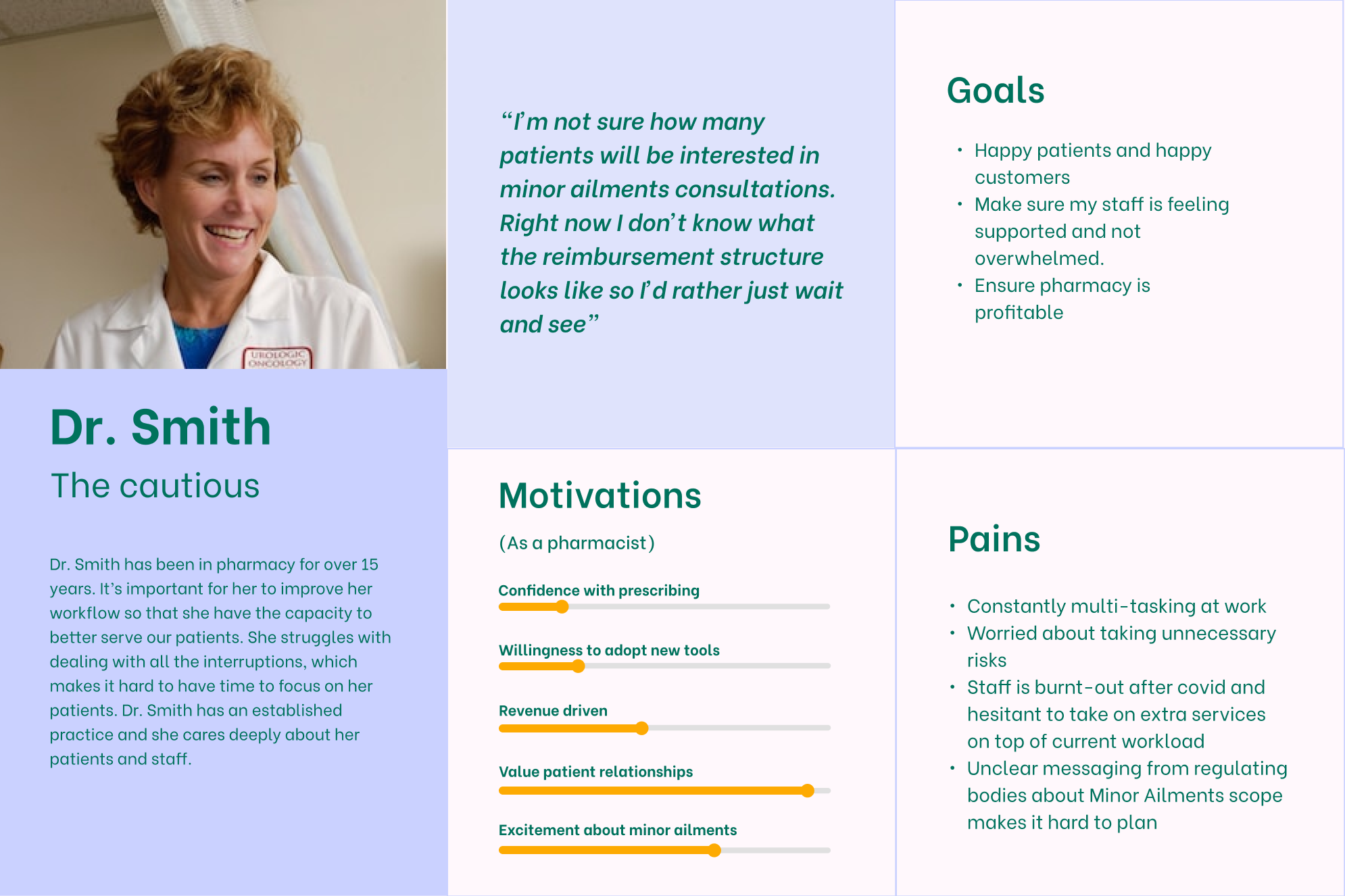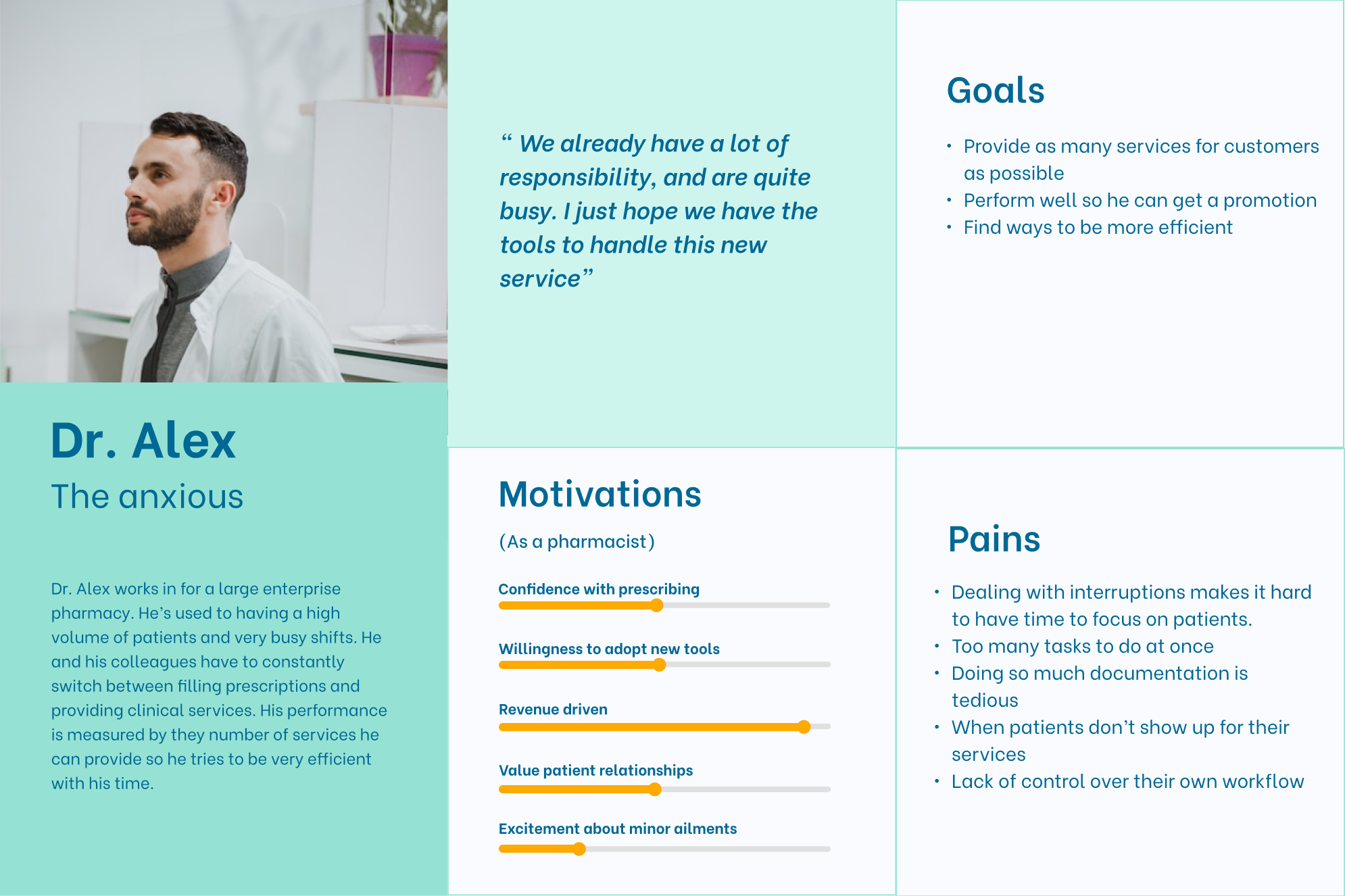 Uncover Paint Points
Luckily we have some great pharmacists on our team. After crafting our initial personas, I led a co-brainstorming session with pharmacists and MedMites to identify key opportunities that Pharmacists are worried about with Minor Ailments. We identified 6 key areas where MedMe could support:
A Patient Self Triage System - Help pharmacists filter out patients that wouldn't qualify to reimbursable treatment
Patient Confidence - Help patients feel comfortable getting prescriptions from pharmacists
Marketing and Generating Patient Demand - Based on performance in other provinces there is low demand for Minor Ailments Services
Billing/Reimbursement - How do we make documentation easy so that Pharmacists can easily get reimbursed for services
Pharmacist Confidence - How do we support pharmacists in navigating through these new murky regulations and changes in scope of practice
Capturing Clinical Outcomes - HMW help pharmacists and the pharmacy regulatory parties see the ROI of pharmacist led clinical services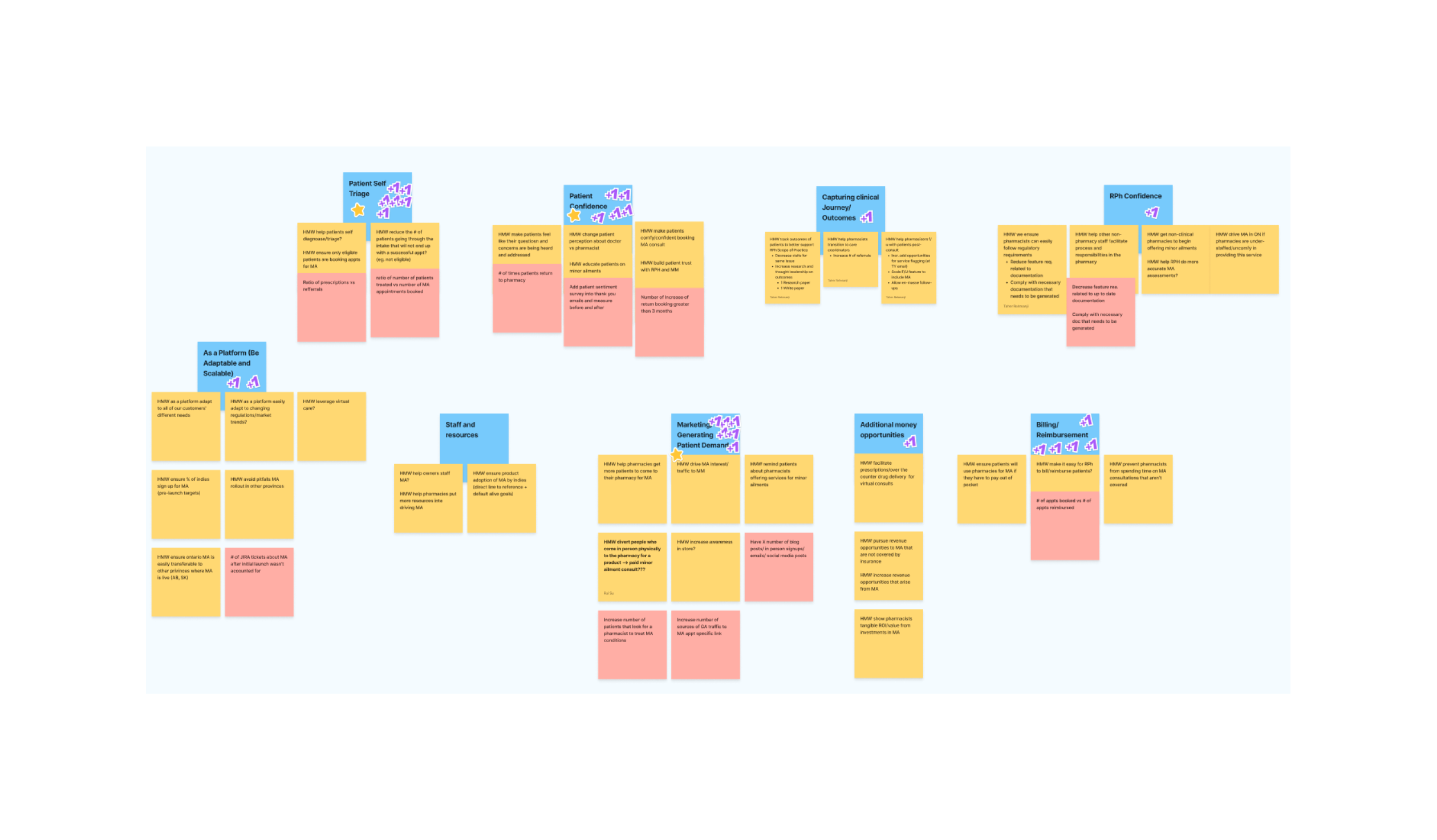 Next I led a crazy 8's brainstorming exercise to help us come up with solution ideas to address the top HMW's from the first session. Crazy 8s is a brainstorming tool to help people generate many ideas in a short amount of time.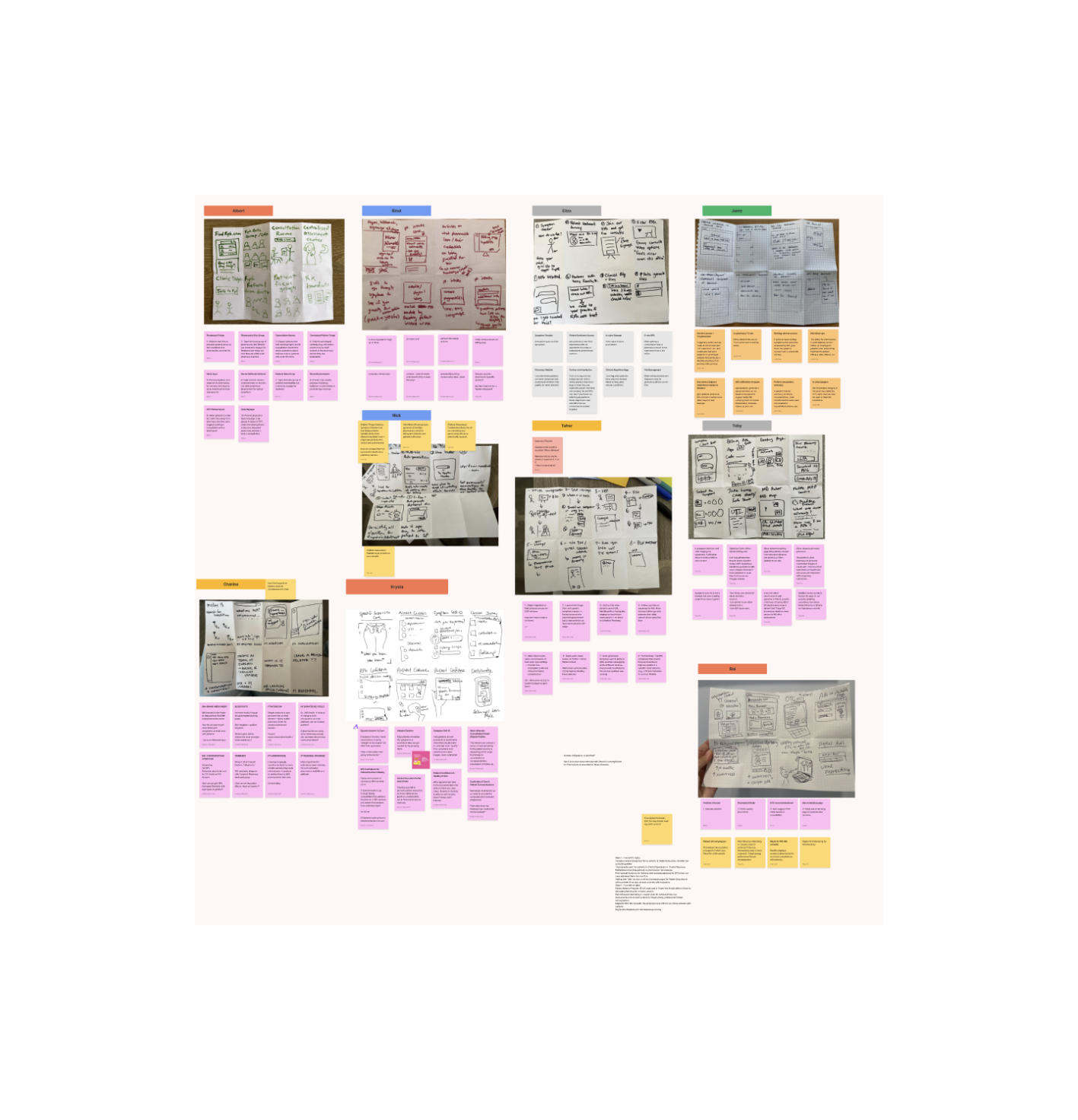 We voted on the crazy 8 ideas to narrow down our potential solutions to 6 categories:
Improving the Patient Intake to help patients easily book an appointment
Some sort of symptom checker to help triage patients that are eligible for treatment by the pharmacist
Patient marketing tools and education materials to help pharmacists generate patient demand
Automated Follow-ups to build patient-pharmacist relationships
Clinical decision making and documentation support to help build pharmacist confidence
What we did with these ideas:
Check out how we improved the Patient Intake in this case study.
Check out how we created the symptom checker in this case study.
Patient Marketing Tools were created at a later date by one our wonderful design coop students.
The follow-ups feature is currently in progress (stay tuned for a case study on this!)
This case study will focus on the documentation and scheduling piece for pharmacists.
Pharmacist User Flows
Before starting on any wireframes I mapped out the pharmacist user flows.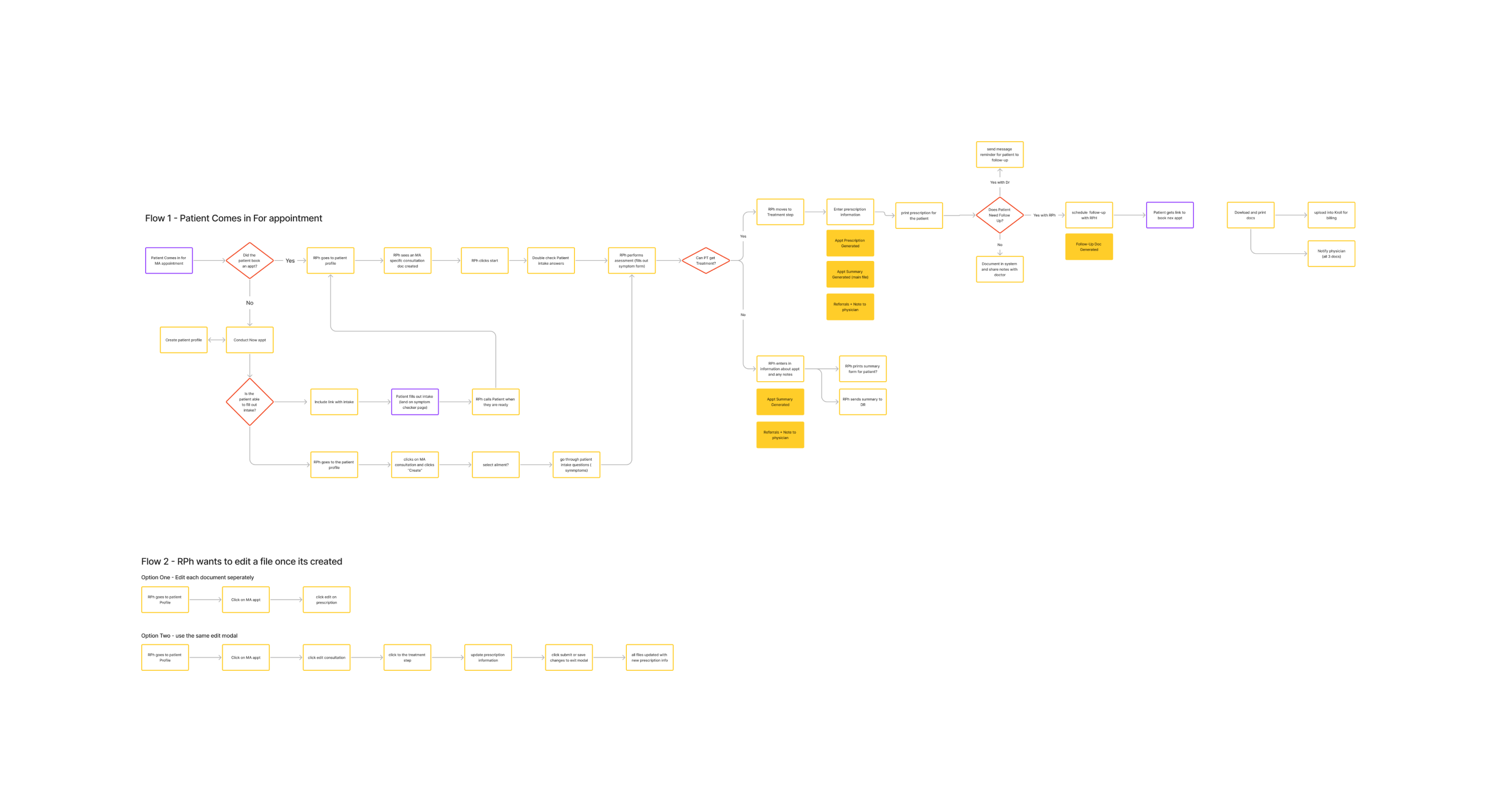 Pharmacist User Interview Goals
Next we wanted to talk to pharmacists to validate our assumptions and get a broader range of opinions.
First we talked to pharmacists to understand:
What were their biggest concerns for Minor Ailments?
What was the minimum solution we could offer to meet their needs? We showed them three options of varying completeness to understand which they preferred
Prototypes for the Interview
Option One - Full Solution with Clinical Algorithm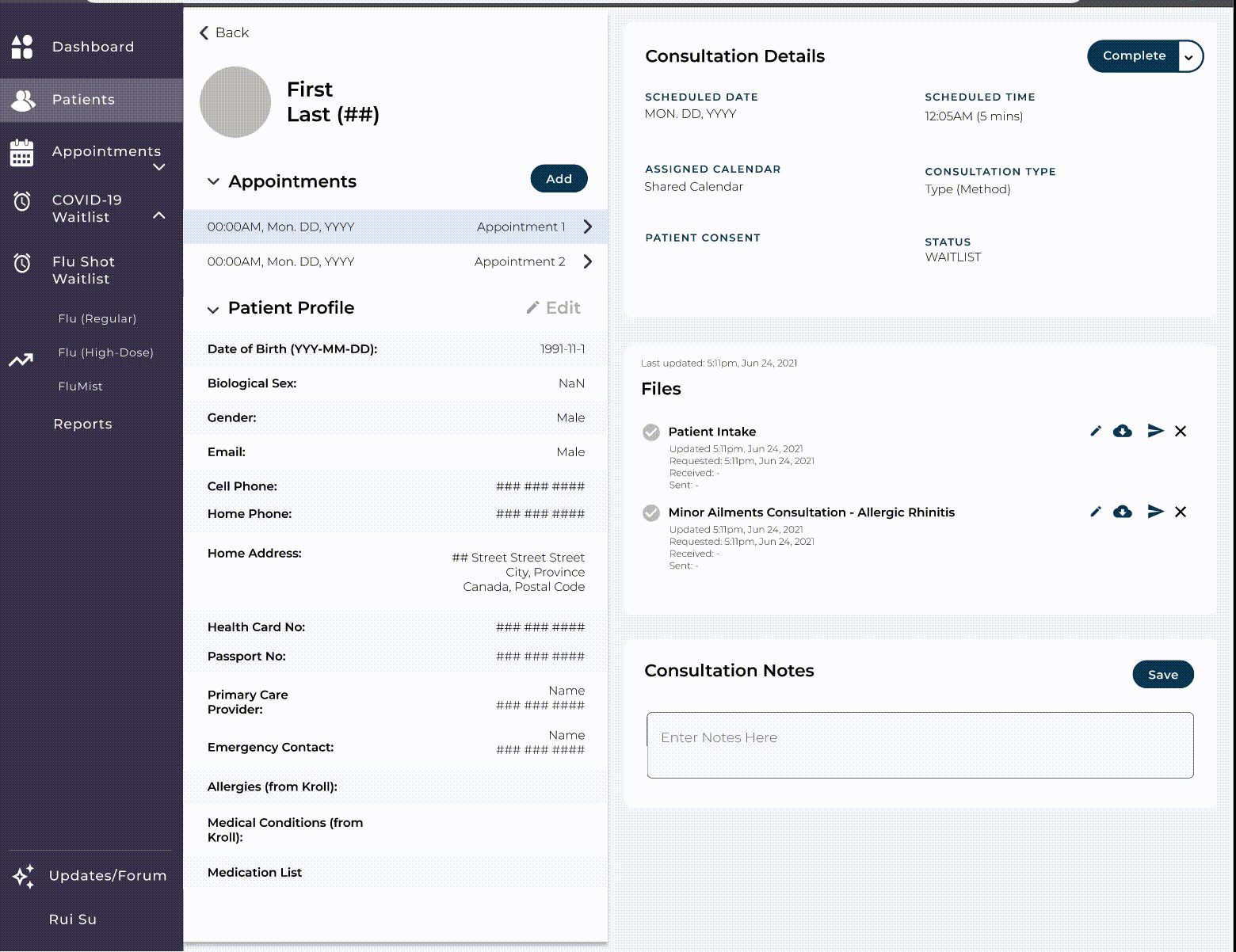 This solution included full clinical decision making with suggested diagnosis and treatment.
Pros:
Give pharmacists confidence to prescribe for all minor ailments
Reduces time per consultation
Cons:
The most complex solution to build
Makes MedMe liable for mistakes
Option Two - Dynamic Forms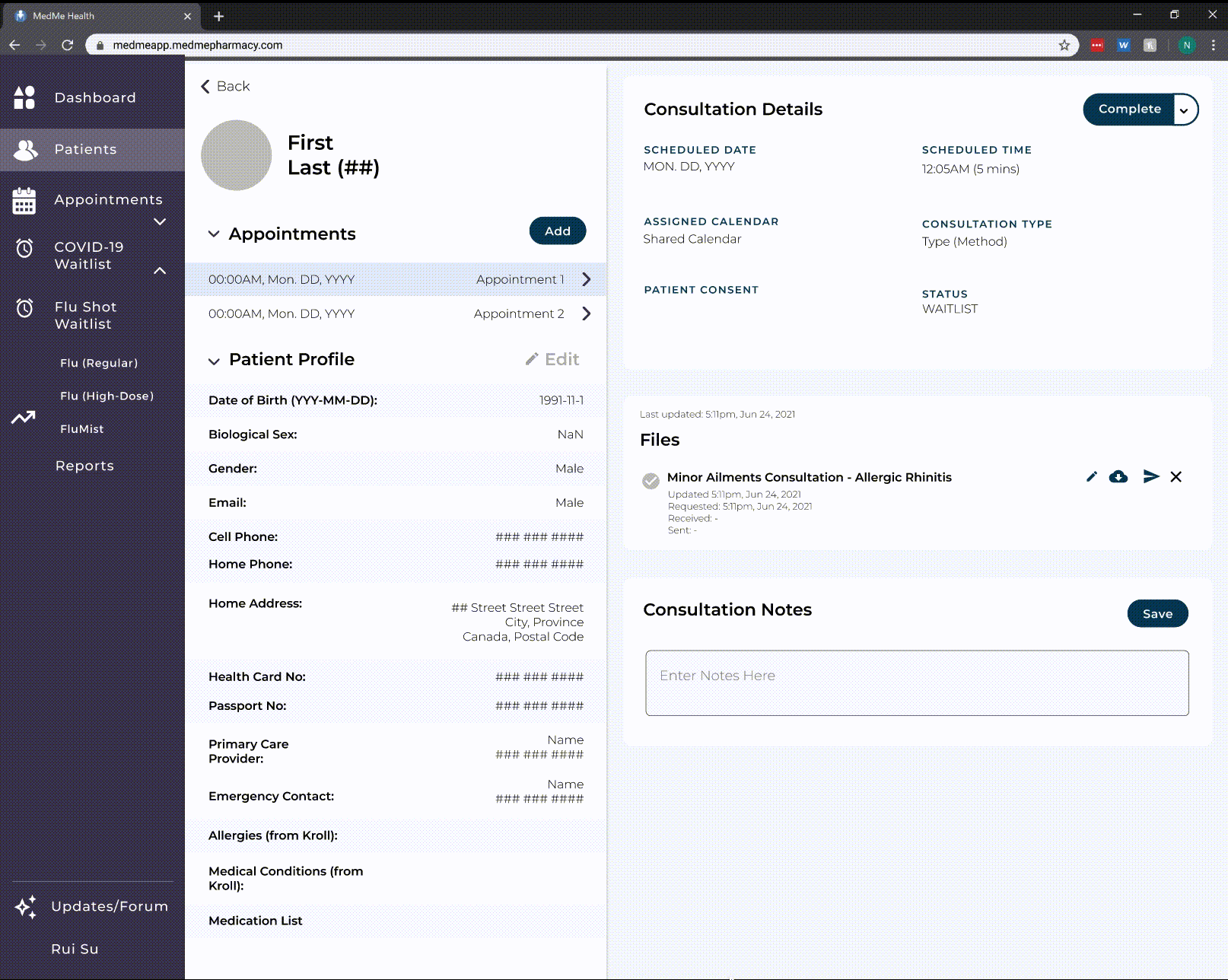 This solution included a revamped edit modal with custom dynamic forms for each minor ailment. This wouldn't help the pharmacist make a diagnosis but it would surface the appropriate questions for any red flag symptoms.
Pros:
Reduces time per consultation with the improved edit modal
Gives pharmacists the power to decide treatment and diagnosis
Helps pharmacists keep up to date with red flag symptoms and eligibility requirements
Cons:
Given how our technical backend was built it would be a lot of work to keep all of these forms up to date with legislation changes and eligibility requirements
No clinical decision-making support
Option Three - Checklist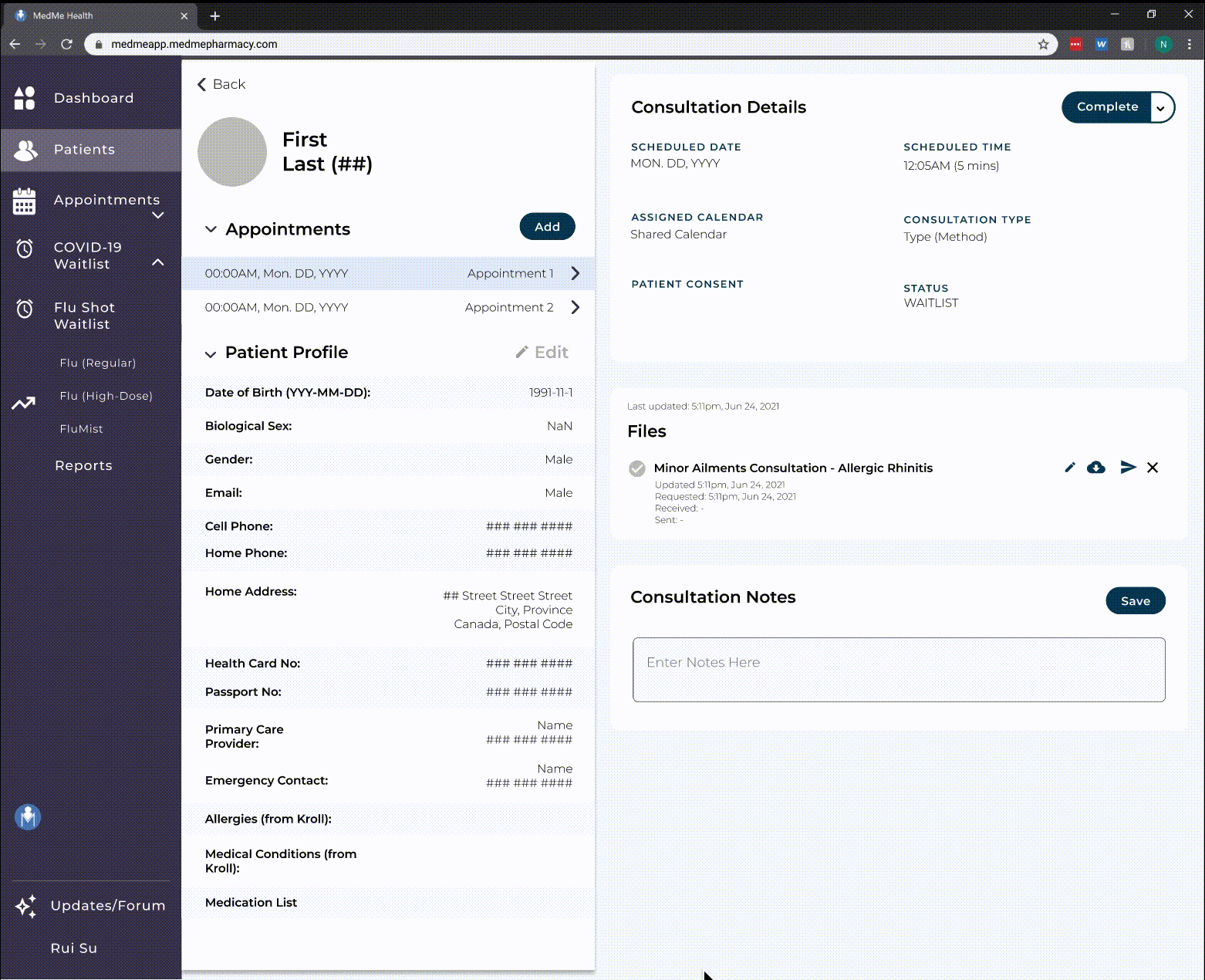 This solution relied upon using the old edit modal design and having a simple general checklist of questions for the pharmacist to ask patients during consultations
Pros:
Cons:
Requires pharmacists to keep up to date with red flag symptoms and eligibility requirements
No clinical decision-making support
Old edit modal design requires a lot of scrolling and is not very user friendly
Key Takeaways from Patient Interviews
🏥 Logistics:
Debate between pharmacist-led assessments or patient-led assessments. HMW help patients choose the right condition?
Walk-in appointments may be more popular due to the time sensitivity of minor ailments. Waitlist functionality is not important for the same reason.
Integration with other pharmacy tools and practice management systems in important to reduce friction in daily workflows
Not all Pharmacists will be comfortable prescribing for all conditions so they should have the ability to choose which ailments they want to prescribe for
Logging will be important for workflow and triaging support
❤️ Patient Triage
Need to determine patient billing eligibility
Need ability to triage patients based on red flags for reimbursement purposes
Dynamic Clinical Algorithms are a nice-to-have but not necessary since pharmacists should be gaining confidence in prescribing for minor ailments
📋 Documentation:
Our forms should support required documents for billing and reimbursement
Multi-file management within MedMe would provide workflow optimization by allowing pharmacists to store a variety of files like referrals, patient educational materials, appointment summaries and prescriptions
Assessment documentation, prescription generation, and educational handouts are important for pharmacists
Trust in educational providers may make it more likely for pharmacists to use their forms instead of the forms within MedMe
🚀 Future Opportunities:
Opportunity to increase patient LTV (lifetime value) by building a more personal relationship through minor ailments consultations
Traditional marketing strategies will be used to promote the service, but patient demand may vary based on location of the pharmacy
🔑 Key Decisions
Based on the feedback we received from pharmacists we came to 2 main decisions.
Each ailment would be its own appointment type
Initial designs had one appointment type for all minor ailments. This was to allow patients to book a general consultation and then allow pharmacists to diagnose which ailment the patient had. However this made it difficult for patients to see which ailments the pharmacist could prescribe for and would be difficult for pharmacists to predict what the patient was coming in for. 
Making each ailment be its own appointment type enabled pharmacists to decide with conditions they were comfortable diagnosing and disable public intake for conditions they didn't want to prescribe for. This also allowed us to make each appointment intake have ailment specific patient triaging to remove any patients that were ineligible for pharmacist treatment
We should integrate with industry leaders for the clinical decision support and documentation tools
Creating our documentation tools would take a massive effort from both our engineering and clinical team. This would make it difficult for us to meet the Jan 1st deadline. Pharmacists placed a lot of trust in pre-exisiting tools such as Vigalance Sante's RxConsultAction and Mapflow. Integrating with these tools would not only save us time but also generate new customer leads that were already using those tools.
Final Solution
After speaking with several documentation vendors we launched our minor ailments solution with an integration with Vigilance Sante's RxConsultAction tool. Vigilance Sante is very well known and respected brand within Canadian Healthcare and they already had an integration api making them a great first partner. Post Launch
Success Metrics
For our enterprise client within the first 3 months:
34,000+ minor ailment appointments booked through MedMe
95%of appointments done through MedMe were booked by the patient, 5% by the pharmacist
92%of Appointments were walk-in appointments (not done through MedMe)
$673,000 in revenue
1,125 pharmacies using minor ailments
Most popular ailment booked was Urinary Tract Infections
For our independent pharmacies within the first 3 months:
1500+ minor ailments appointments created
48% of our active pharmacies booked at least one minor ailment consultation
Only 29% of our active pharmacies had booked more than 5 minor ailment appointments
25 new pharmacy go-lives specifically for this feature
Post Launch Interviews
While our enterprise client had very high usage among their pharmacies we did not see as much adoption among our independent pharmacies. We decided to investigate this by talking with some of our high and low usage pharmacies.
Key Takeaways
What improvements do we need to make to the current Minor Ailments product to hit our retention goals:
have more flexibility for pharmacists in the documentation

more features on how to share documentation (e-fax, e-signatures)
add more fields to the documentation (clinical notes, compound medications, freeform medical history)

More integrations with practice management systems as well as more documentation providers
Help drive patient demand to create use case for online bookings
Most patients were coming in for Walk-in appointments so we should focus on improving the walk-in experience
Pharmacists are using other reminder tools like Kroll or Google Calendar to follow-up with patients
Next Steps:
Continue to measure adoption as patients and pharmacists learn more about minor ailments.
More Features for next iteration:
Eligibility screening to help pharmacists filter patients before they come into the pharmacy (this was deprioritized for initial version due to uncertainty of what the regulations would be)
Integrate with more clinical decision making tools and other pharmacy tools
Add more file management tools such as uploading, sending and exporting options
Work with our integration partners to improve our existing integration to be a more seamless experience for pharmacists
Add automated follow-up within MedMe
Make it easier for pharmacists to use MedMe for Minor Ailments walk-in patients
Support pharmacies with marketing tools for increasing patient demand
Expand to more provinces where pharmacies are allowed to prescribed for Minor Ailments