MedMe Background
While doctors and hospitals can be hard to access most people live within 15min commute to their nearest pharmacy, making it a more accessible form of healthcare. MedMe is an all in one cloud based software solution built to empower pharmacies to deliver services at scale. During the Covid-19 pandemic over 60% of all pharmacies across Canada were using MedMe to schedule, document, and administer Covid-19 Vaccines and Covid Testing. MedMe's goal past the pandemic was to expand its scope of services to help pharmacies expand their own scope of services to take advantage of their increased number of patients post covid.
Project Backgound
Starting January 1st, 2023, pharmacists in Ontario are authorized to prescribe medications for minor ailments. This list of authorized health conditions includes things like urinary tract infections, insect bites, and menstrual cramps. Minor ailments are defined as health conditions that require minimal treatment or self-care strategies. Pharmacists have been helping patients identify these health conditions for some time, but were previously limited to suggesting non-prescription treatments or referring patients to other healthcare providers. This change should reduce the burden on doctors, walk-in clinics, and local hospitals, while also allowing patients to get treated more quickly and efficiently. Hopefully this will improve the overall efficiency of the healthcare system and patient experience.
Design a solution to help patients schedule minor ailments consultations with their pharmacists.
Project Team
Product Manager
Lead Product Designer(Me)
Product Design Intern (Supported on Patient Interviews)
Engineering Tech Lead, 1 Frontend Engineer, 1 FullStack Engineer
Tools
Empathize
First we had to understand our potential patients so that we can understand how to best serve them. Since MedMe was an already existing platform we understood that patient behaviours are very dependant on 2 factors: location(urban, suburban, and rural) and Age (young adult, middle aged, senior). Based on these we created 3 personas to capture the 3 types of people we think would use Minor Ailments services.
Personas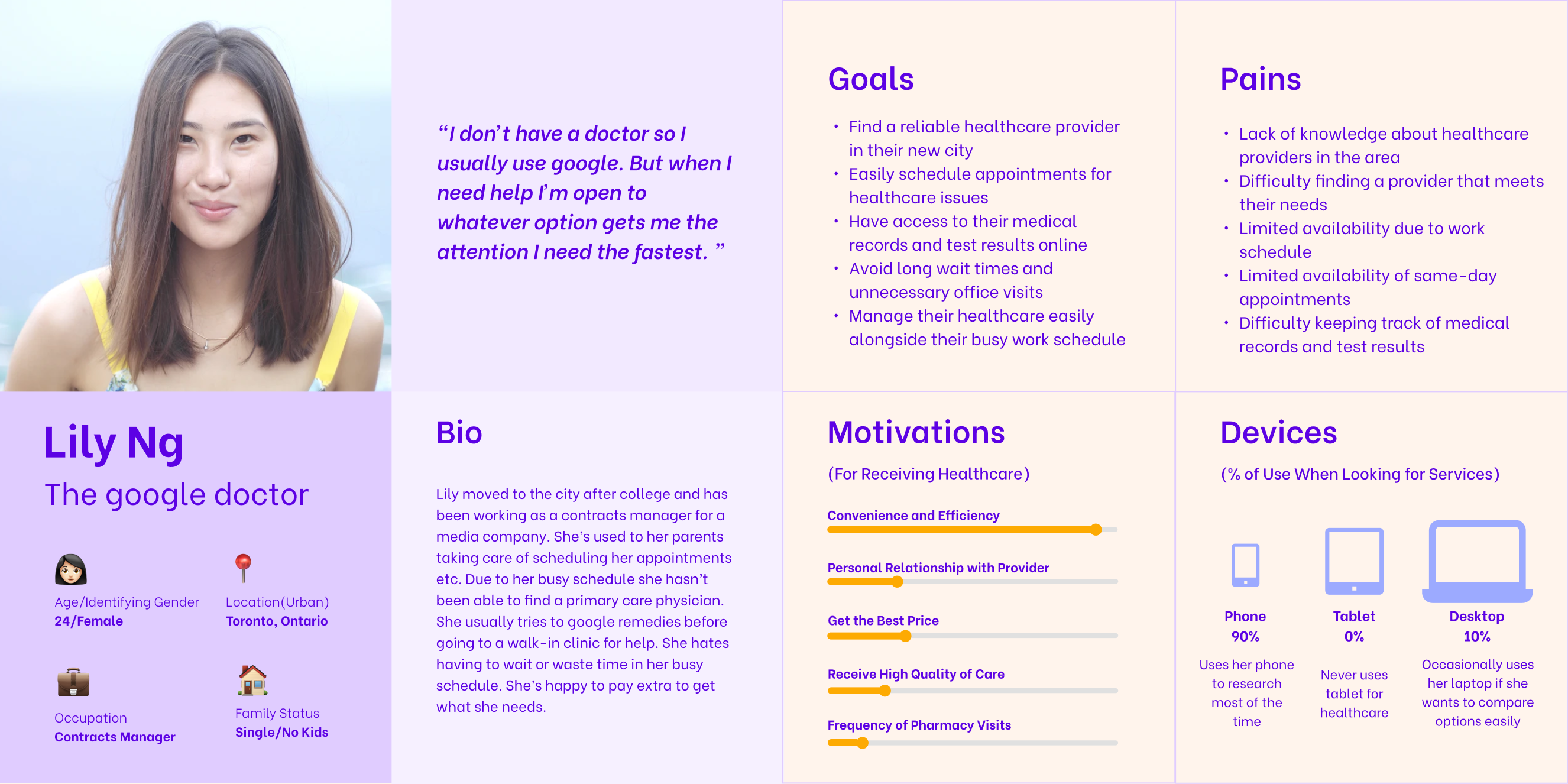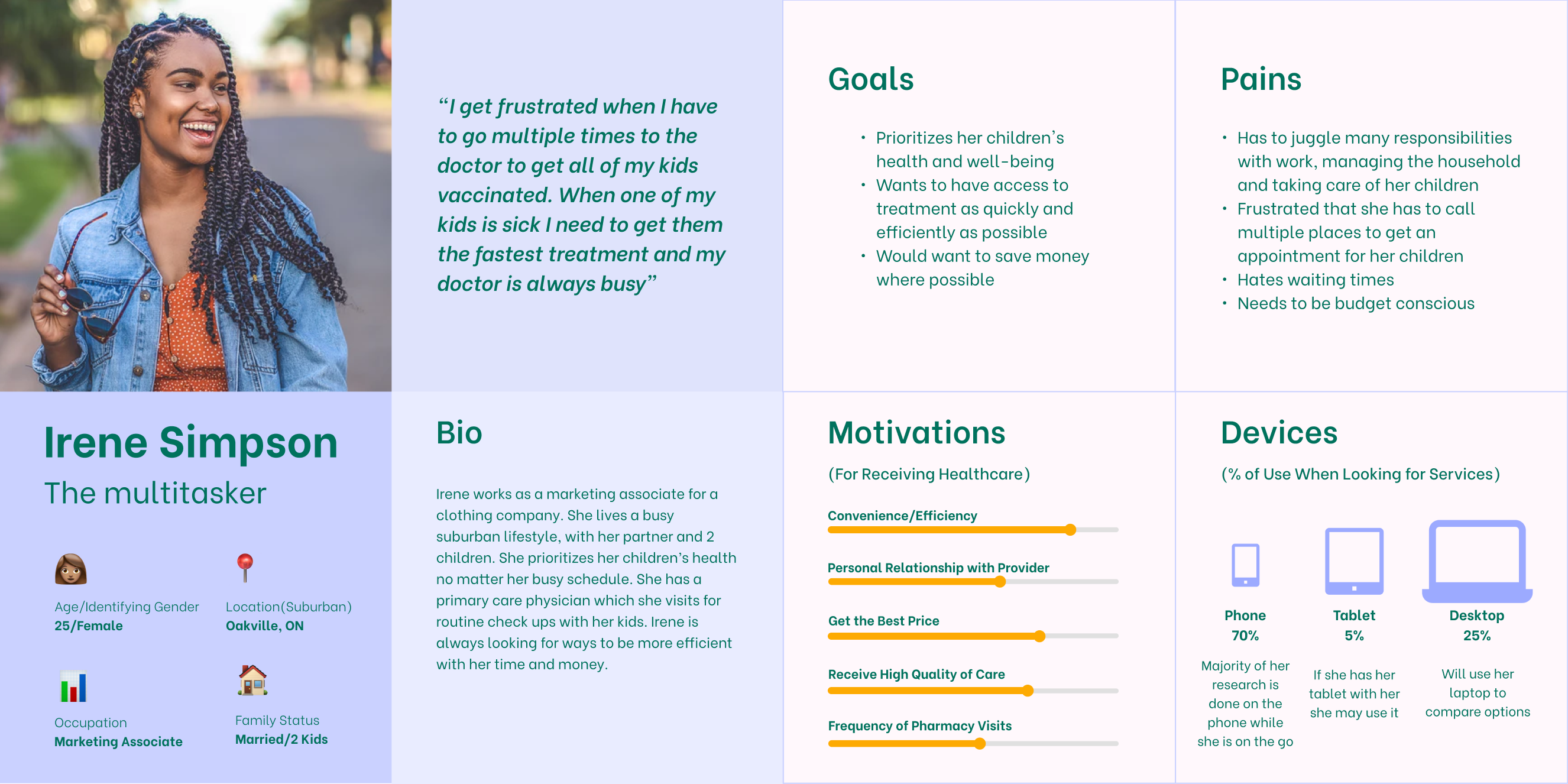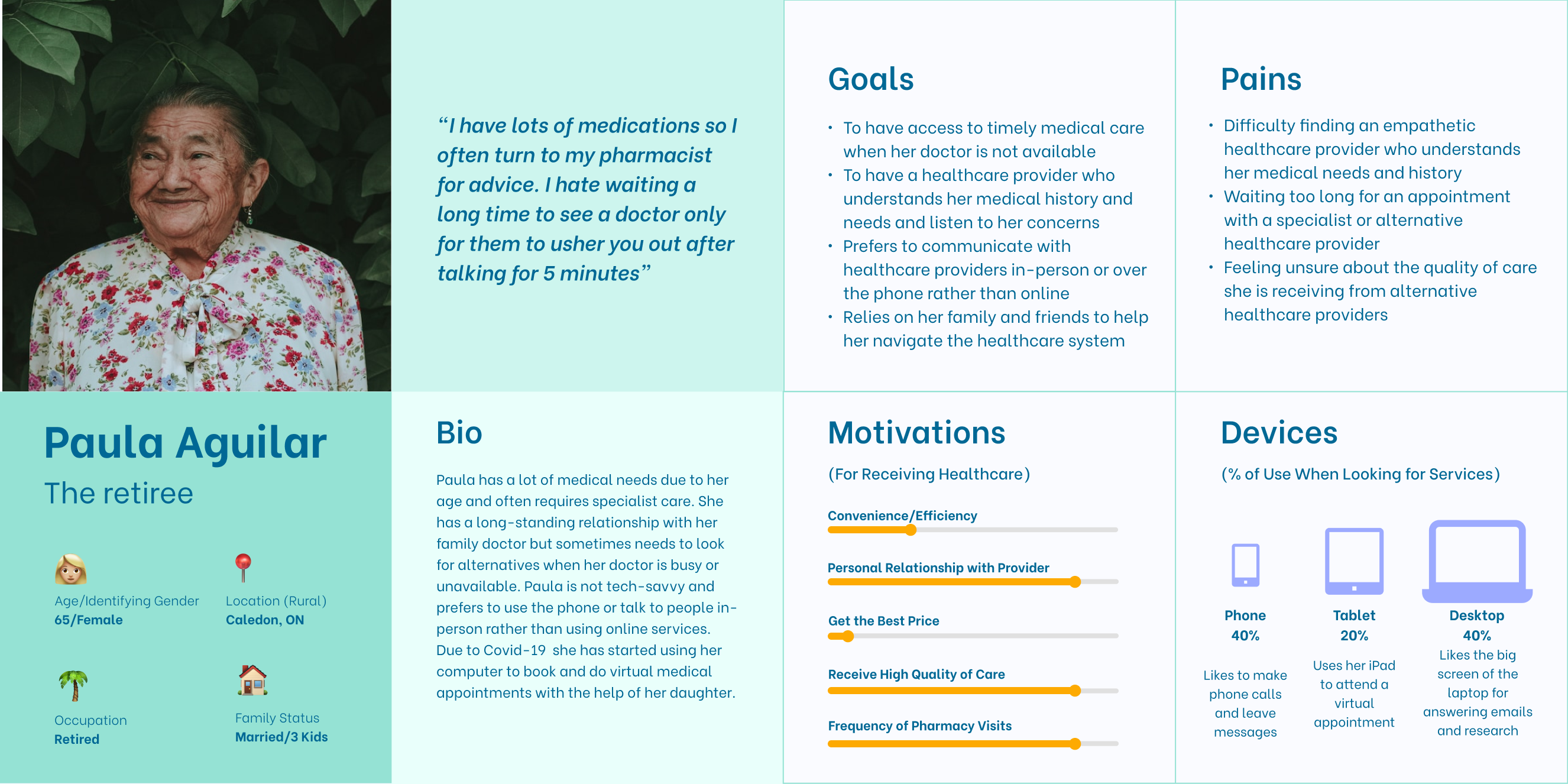 Patient Discovery Interviews
We conducted 15 virtual patient interviews (5 for each persona category). The goals of our interview were:
Understand the patients' general approach and attitude towards healthcare
Understand the patients' sentiment towards authorizing pharmacists to prescribe for minor ailments
Get feedback on out Patient Intake Flow. We had decided to use a slightly altered version of our Patient Intake with some extra questions about symptoms as a way to start the conversation about what the ideal Patient Intake would look like.
Key Takeaways from Patient Interviews
🏥 Patient Healthcare Habits
50% of patients said they saw their pharmacist more often than their family doctor (3+ times a year) and 43% said they saw the pharmacist same amount as their doctor (1-2 times a year)
—> This means we have lots of opportunities for pharmacists to promote their other services
100% of patients had a pharmacy less than 10 min away while 27% had to commute over 15 min to their doctor
Most patients (57%) book physician appointments by calling, 29% by booking online (Jane App, Medeo) and 14% by email. Almost all patients that currently book through the phone/email said they would use an online booking system if given the option
21% of HC provider don't have any virtual option, 43% have only phone options and only 21% have a video call option. Almost all patients we spoke to said they prefer in person or video call appointments over phone call appointments because they wanted to be able to show symptoms
—> Providing video call consultations may be a way to sell pharmacy services to patients
❤️ Patient Values
We need to make sure that pharmacists have dedicated space and time for appointments so that they can make the patient feel heard and educated on their symptoms and treatment
We should promote appointment based scheduling and dedicated pharmacists for minor ailments to reduce wait times and delays
😷 Sentiment on Minor Ailments
Most patients (71%) had asked their pharmacist for health care advice
64% of patients were very confident in Pharmacists' ability to treat patients. 21% were confident that pharmacists could treat minor ailments, 14% were unsure if they would go to a pharmacist for minor ailmentss
There is a lot of patient education to be done:

Most patients are not aware of what all the minor ailments in the list mean and how pharmacists are qualified
Patients have lots of questions around what the experience will look like. Will the pharmacist be able to perform the same exams as my doctor?
Will pharmacists be able to catch which minor issues are a sign of something bigger, without having access to my medical history?

Patients don't understand why they would be charged for minor ailments when going to a doctor is free. However, 29% of patients would still use the service if it was covered by insurance. If not covered people would want to see the cost up front.
Most people want the option for both walk-ins and booking online
🧑‍💻 Prototype Feedback
Scenario: You are experiencing an itchy throat and eyes, sneezing a lot, and need some quick support so you decide to contact your pharmacy for support. Then patients were asked to click through the prototype. Two of 15 patients interviewed did not have access to a computer and therefore weren't able to click through the prototype. Instead we shared our screen to walk them through the prototype instead.
Need more information on the appointment list page to educate patients minor ailments pharmacists

Information on what a minor ailments are and why pharmacists are qualified
Show pricing if applicable

Medical Screening Step

Some confusion about what this step was for, some of the minor ailment symptoms could be COVID-19 symptoms. It wasn't clear whether they would be able to proceed if they responded yes or no

Need to build more trust with our patients

30% of patients were intimidated by the consent page and it made them question whether their data was safe. People are unsure of what they are consenting to.

Medical Information Step and Reason for Visit

Only 2 out of 12 patients were able to correctly diagnose themselves with allergies. (Part of this could be bias due to how we presented the scenario and whether the patient had experience those allergy symptoms in the past)
Patients were divided 50/50 on how they wanted to share their symptoms. 50% wanted to be able to see a list of symptoms for that ailment and check off which they were experience and then have an other option to add additional information. 50% of patients preferred to just type up their symptoms.
Ideate
First I created a high level user from for the patient journey through an MA Appointment

Based on this and user feedback we realized we needed a better way to organize our patient intake within MedMe with lot sof pharmacists and patients reporting that it was difficult to find the service they were looking for. With Minor Ailments introducing another 13 appointment types we knew we had to make this a priority.
Looking into different ways we could sort the patient intake. Since patients had a hard time selecting a minor ailment we knew we had to create something to help patients understand what ailment they had. For these high level patient intake flows, we abstracted this step to be called a "Symptom Checker".
Option One - Sort By Service Type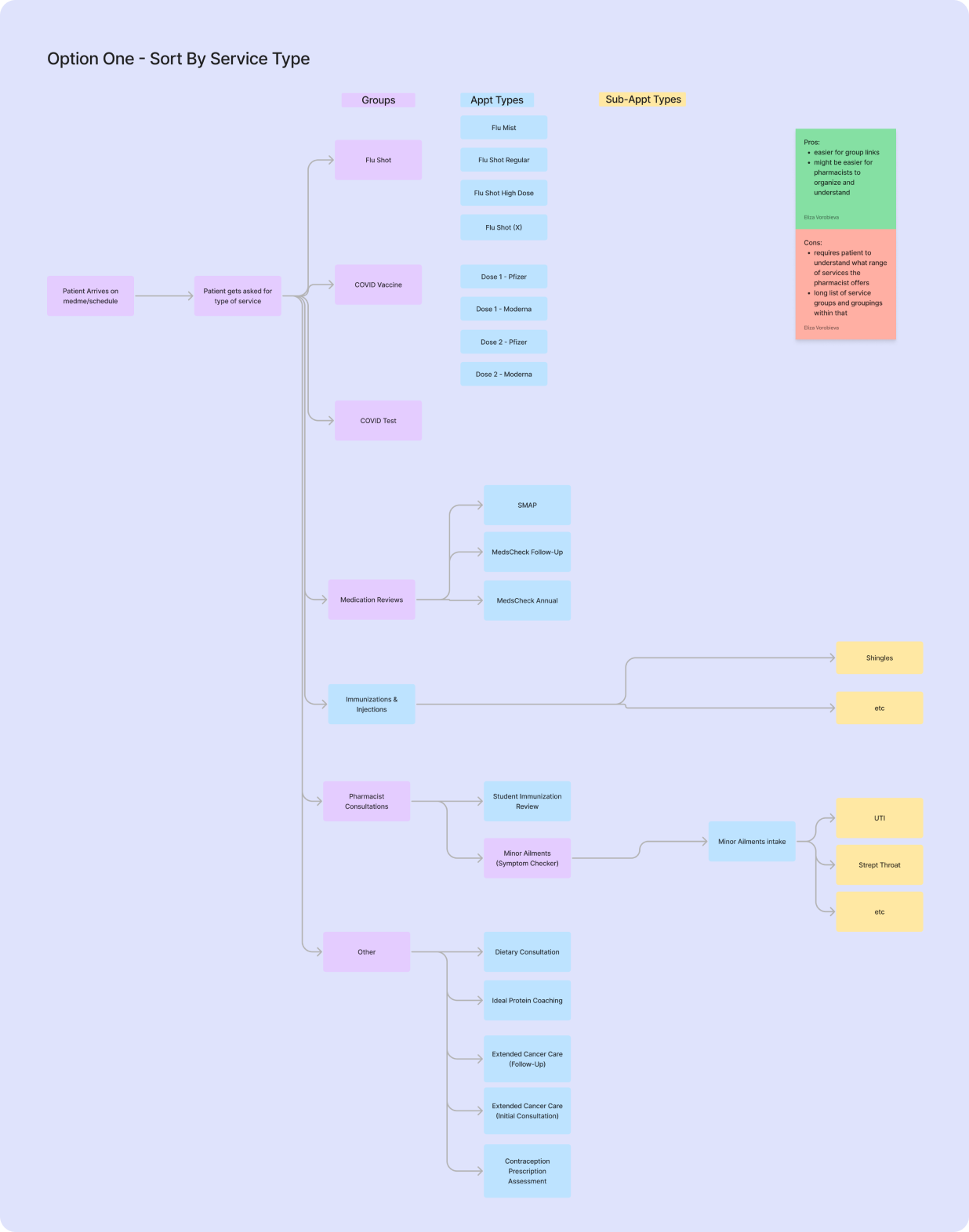 Pros
Easier for sharing a link to a specific group of appointments
Might be easier for pharmacists to organize and understand
Cons
Requires patient to understand the range of services the pharmacist offers
Long list of service groups and groupings could be overwhelming for pharmacists and patients
Option Two - Sort By Symptom and Service Type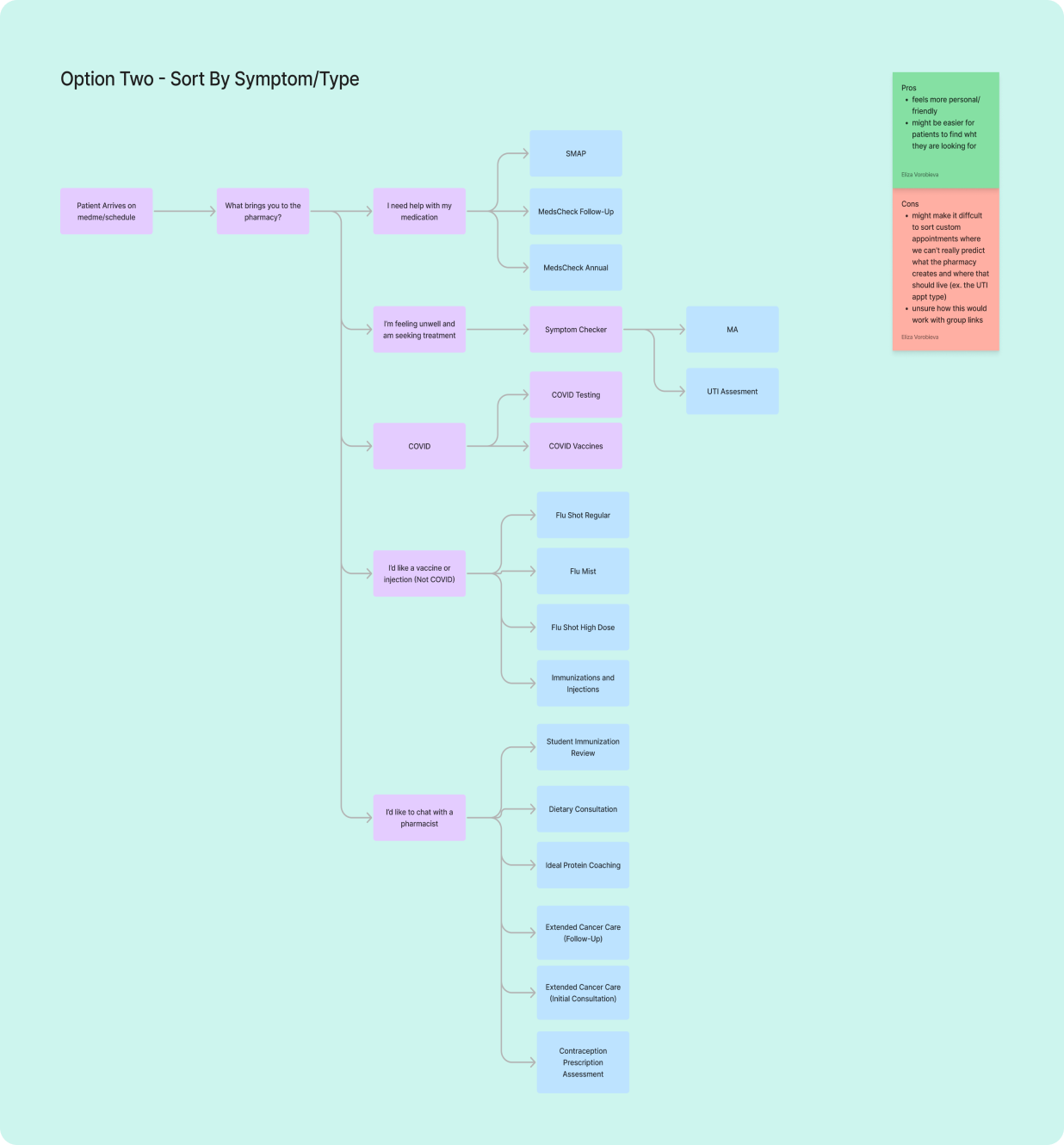 Pros
Feels more personal and friendly
Might be easier for patients to find wht they are looking for
Cons
Might make it difficult to sort custom appointments where we can't really predict what the pharmacy creates and where that should live
Unsure how this would work with group links
Option Three - Still display all services but have ability to filter and group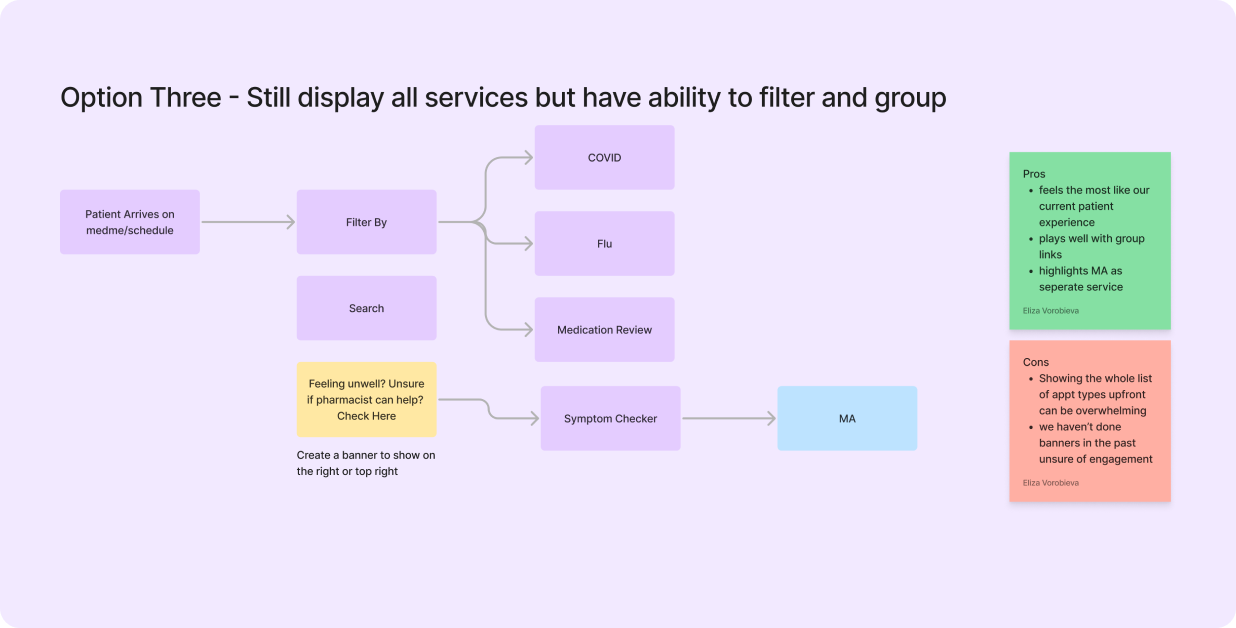 Pros
Feels the most like our current patient experience
Makes it easy to create group links
Highlights Minor Ailment as a separate service
Cons
Showing the whole list of appointment types upfront can be overwhelming
We haven't done banners or filters in the past unsure of engagement
In the end we decided on Option 3 for 3 main reasons:
Technical Constraints - this would be the easiest for us to develop since its most similar to our current flow
Future Flexibility - allowing pharmacists to create groups themselves meant MedMe didn't have to worry about how to group custom appointments
Highlight Minor Ailments as separate service - grouping all minor ailments services together makes it easy for patients to find. This also helps pharmacies create marketing materials since they can link to a speicifc appointment group for minor ailments
Solution
Wireframes
Option One: Use Our Existing Intake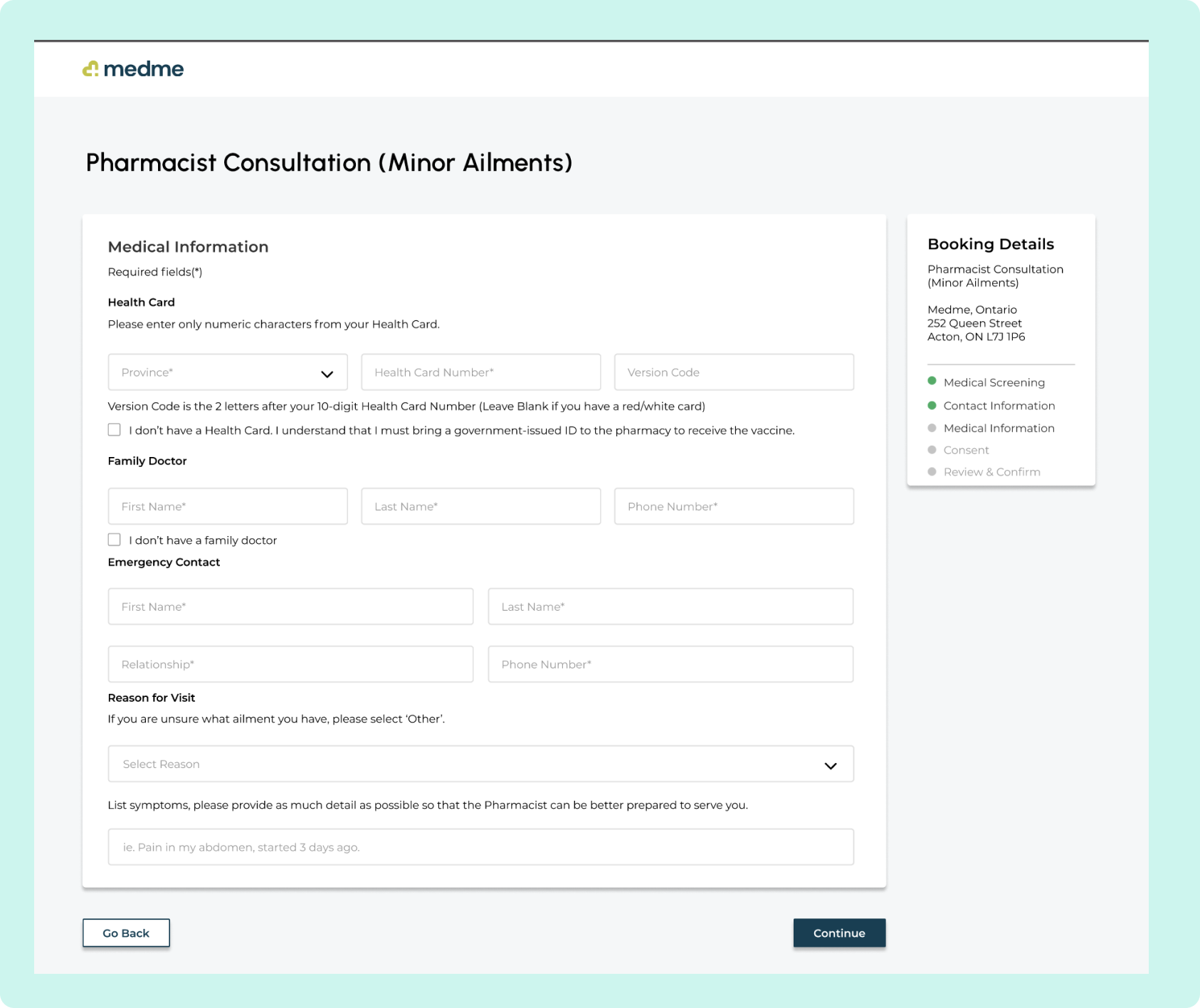 Pros
Very easy to develop
Uses one Appointment Type for all minor ailments so its easy for patient to find
Cons
Patient were confused because they were looking for a specific service
Unsure what minor ailment they had so most patients selected other
Having all minor ailments under one appointment type makes it difficult tof pharmacists to control which ailments they want to prescribe for
Doesn't provide enough context for patients to decide which ailment they have
Option Two: Show on a Body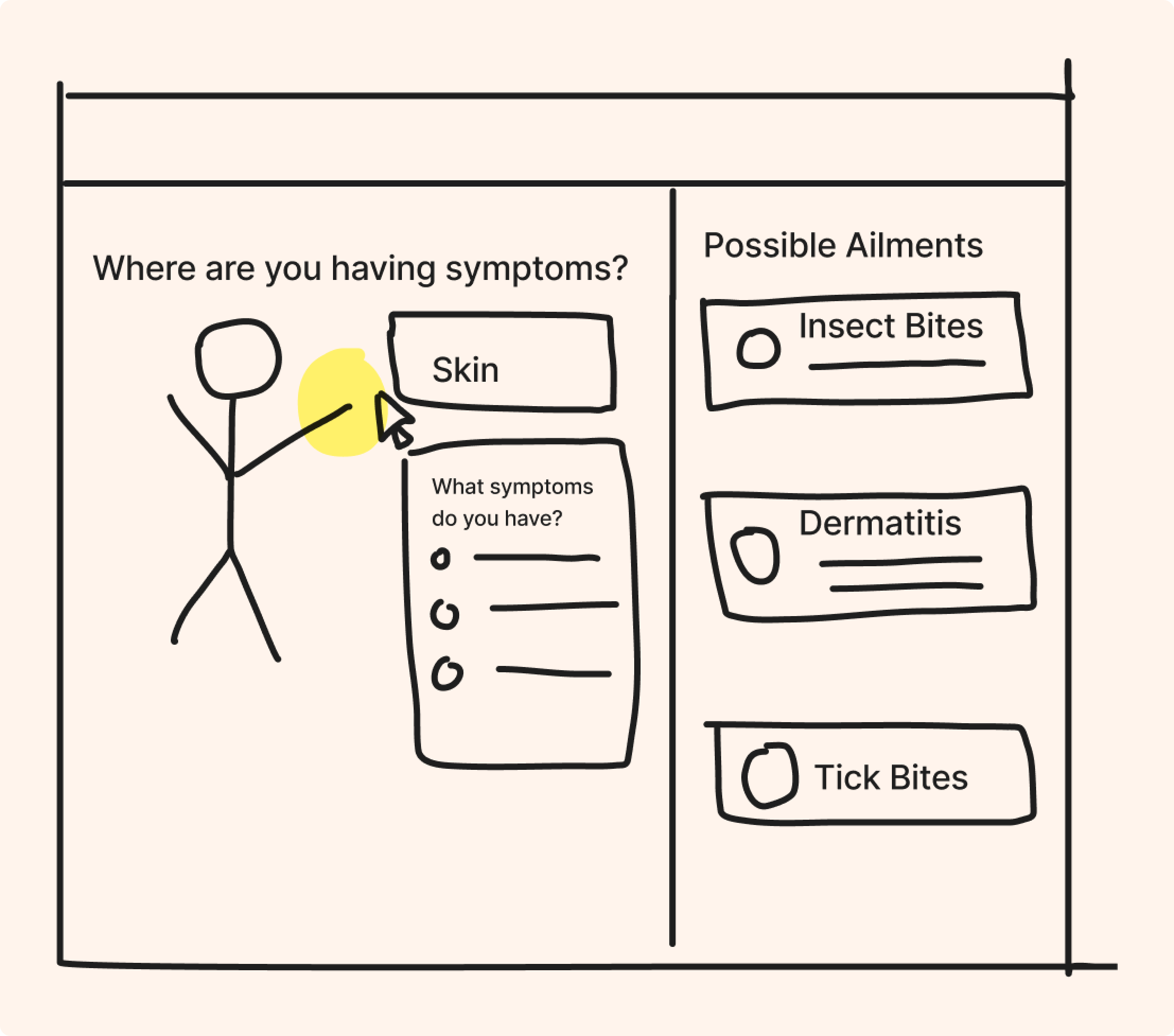 Pros
Easy for patients to understand
Helpful for patients who don't know what ailment they have
Cons
Difficult to develop since this is very different from our current intake
Forces patients to self-diagnose which can be dangerous
Difficult to see at a glance what Minor Ailments the pharmacist can prescribe for
Option Three: Filter Based on Symptoms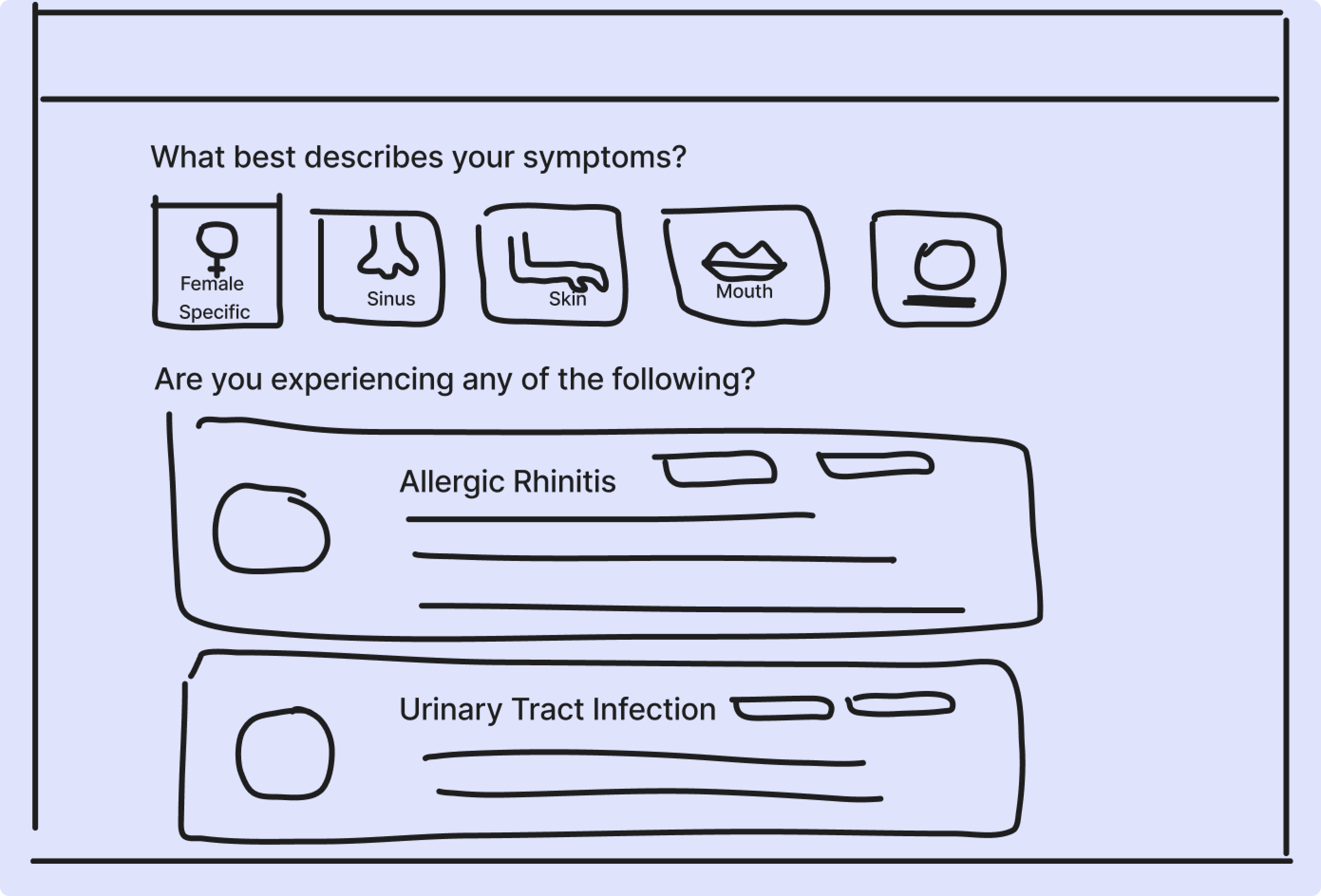 Pros
Easy for patients to understand
Allows patients to filter down appointment types based on their symptoms
Still shows the full list of available ailments to educate patients on pharmacists's scope of practice
Easy for patients that know their ailment to quickly locate their appointment type
Cons
Different from MedMe's current intake so would take some effort to develop
Requires patients to self diagnose what ailment they have
Option Four: Chat with an Expert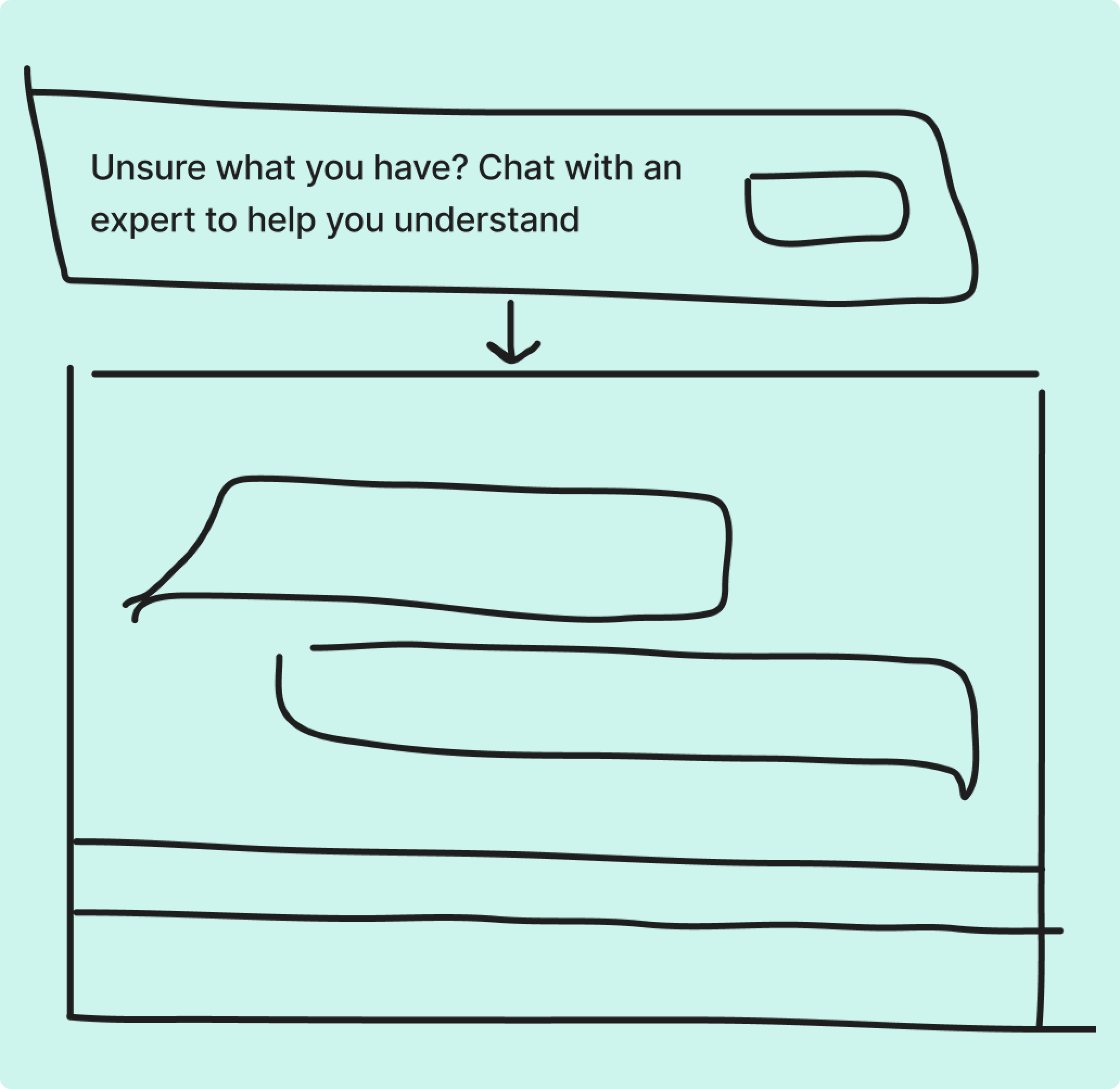 Pros
Personalized experience for patient
Could use a third party solution to quickly implement
Cons
Very different from MedMe's current intake so would take some effort to develop
At the time of this decision, chatGPT and other AI had not yet become easy enough to implement and use
Difficult to see at a glance what Minor Ailments the pharmacist can prescribe for
After discussing internally with the Product Manager, Clinical Lead, and Technical Lead as well as some quick interviews with our Pharmacy Partners we decided to go with Option 3. We decided that this would be a good balance between educating and guiding the patient through selecting an ailment, and allowing patients to quickly find the ailment they are looking for.
Prototype and Validation
I created a prototype using Figma to use during user interviews, product demos, and developer handoff.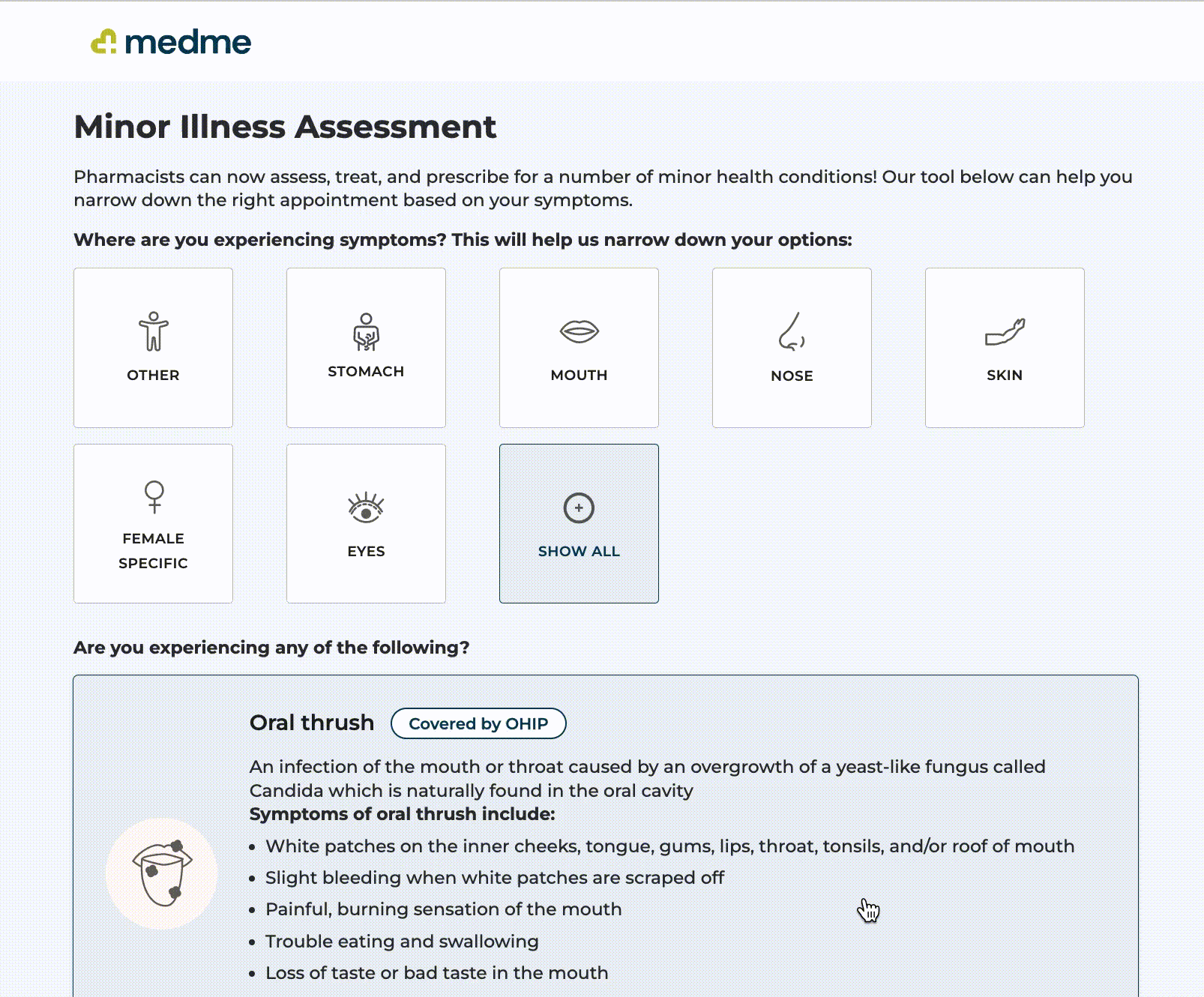 Post Launch Patient Feedback
We did a round of user interviews about 2 months post launch to understand the impact of our solution.
Key Take aways:
Eligibility screening questions were great for pharmacists to flag which patients could be prescribed treatment. However it was unclear to patients what these questions were for and how to answer them
Once they were on the Minor Ailment selection page patients knew exactly how to find their ailment. However getting to that step was hard since there are still a lot of services on the home page.
Even though Minor Ailments Services had been live for over 2 months, many patients still had no idea it was a service they could get from a pharmacy
Next Steps
Improved Eligibility Questions
Make questions language simpler and more clear for non-medical professionals
Reduce the number of questions as much as possible
De-clutter main scheduler page
Allow pharmacists to group appointments on the home page of their scheduler so that patients can easily find what service they are looking for
Support Pharmacies in Generating Patient Demand and Awareness
A separate project was started to help pharmacists promote minor ailments. This included both physical and digital materials as well as webinars on how to promote their services online.