Background and Problem
Opencare is an online platform that helps dental practices acquire new patients. Patients are asked a series of questions to match them with the perfect dentist for them. Once patients choose a dentist they submit an appointment request to practices. An office manager at a practice must process this request, ensure that they have the necessary patient information and confirm an appointment time. Opencare provides an app for office managers to message patients.
Office managers are always very busy and don't always make time to check the Opencare app for new patient requests. The data showed that the longer the practice takes to respond to a new patient request, the less likely that patient is to have a successful appointment. In order to decrease wait times we needed a way to increase engagement with the Opencare platform. The customer success team would regularly reach out to problem practices but it was difficult to have performance related conversations since practices had no way of seeing their own performance independently.
The goal of this project was to encourage better practice behavior by increasing user engagement with the Opencare app by tracking and presenting practice performance.
Role and Ownership
As the sole designer on the project I was in charge of user research, prototyping, usability testing and follow-up design iterations.. Worked closely with the product manager to gather requirements and conduct initial exploratory interviews. Communicated with stakeholders across the company to ensure a smooth launch.
Tools
Process
Competitive Analysis
The first step was to do some research to see how other apps encourage good behavior among their users. In the dental space I looked at Zocdoc and Dental Intel. I also looked for inspiration outside of the dental space at apps like Grammerly, Audible, Duolingo, Yelp and Airbnb.
Common Patterns to Encourage Engagement:
Badges to commemorate new achievements or rewarding good behavior
Ability to share achievements publicly, either on their app profile or on social media
Some sort of weekly or monthly report to show progress on goals
Good behavior is also rewarded with exclusive perks like higher search rankings or discounted prices.
Some apps just show the raw data and allow users to extrapolate what their goals or progress is.
Defining Good Behaviors
To ensure milestones set for practices were relevant to improving patient experience, I set out to define valid metrics for practice success. Before settling on a specific design we needed to decide on what behaviors we wanted to encourage. We looked at data for the most successful Opencare practices and realized that they all had several things in common. They had high response rates to new patient requests, low response times and high schedule rates. This also aligned with what we heard in practice interviews as well as feedback from the customer success teams. We divided good performance into two sections; Responsiveness, and Patient Intake.
Personas
Olivia the Office Manager
The primary user of the Opencare platform are the office managers at the practices. Olivia has a million things on her plate from welcoming patients to managing everyone's schedule, calling insurance companies and making sure the practice runs smoothly. She doesn't often look at the production numbers for the practice but likes to hear feedback if she's doing a great job. She tries to keep track of it all by having sticky notes all over her monitor. She usually arrives early at the practice to respond to new patient requests and will sometimes check during the day if she has the time.
Dr. Penny the Dentist and Practice Owner
Most practices are owned by the primary dentists. Dr. Penny wants to make sure her practice is always fully booked and operating efficiently. Dr. Penny cares about the production numbers for her practice and wants to know how well they are performing. However she's really busy so doesn't have the time to constantly track how her practice is doing. She may check in on the number of new patient requests from time to time but mostly leaves the scheduling to Olivia.
Patrick the Patient
Patrick just moved to the city and is looking for a new dentist. There are a lot of great options for dentists and he wants to see what makes one practice better than another so he can make the best decision for himself. He wants to book an appointment with a great dentist as easily and quickly as possible, without having to get on the phone and call a practice.
Solution
We decided to create a new tab in the practice app called Performance Analytics. Performance Analytics was divided into several sections; Overview, Productivity Score, Performance Badges, Patient Feedback, and Super Practice.
Overview Page
Gives a high level summary of how a practice is doing
This was particularly appreciated by dentists who could see at a glance the state of their practice
Provides an easy way to access other performance features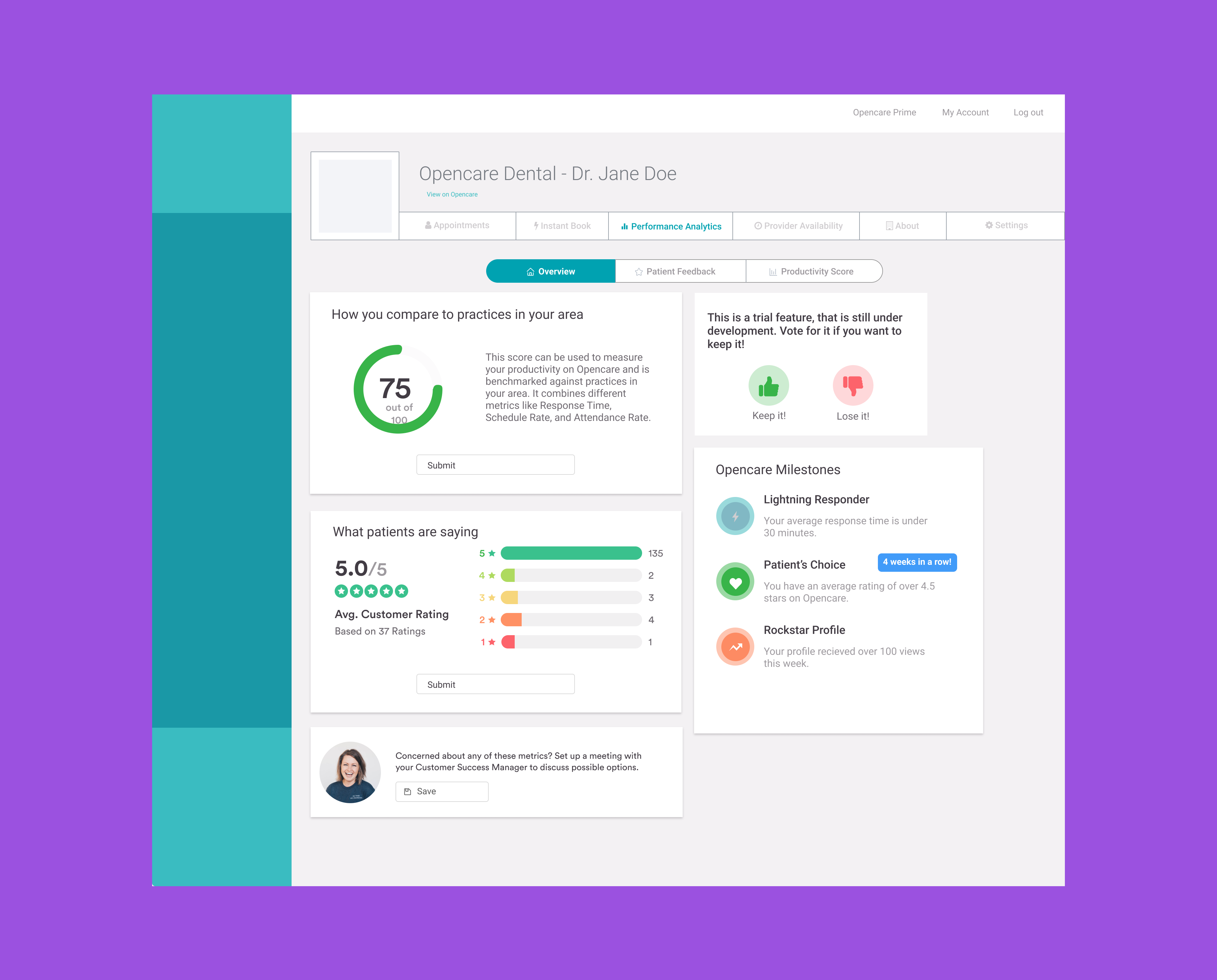 Badges
Give rewards to practices that are doing well to encourage them to improve their performance metrics.
Tiered system allowed practices to feel a sense of accomplishment even if they were too far behind to reach the gold badge
Gold level badges will be shown on the practice's patient facing profile and raise their ranking in match results.
This was shown to be a great motivator to our personas that were not very numbers savvy.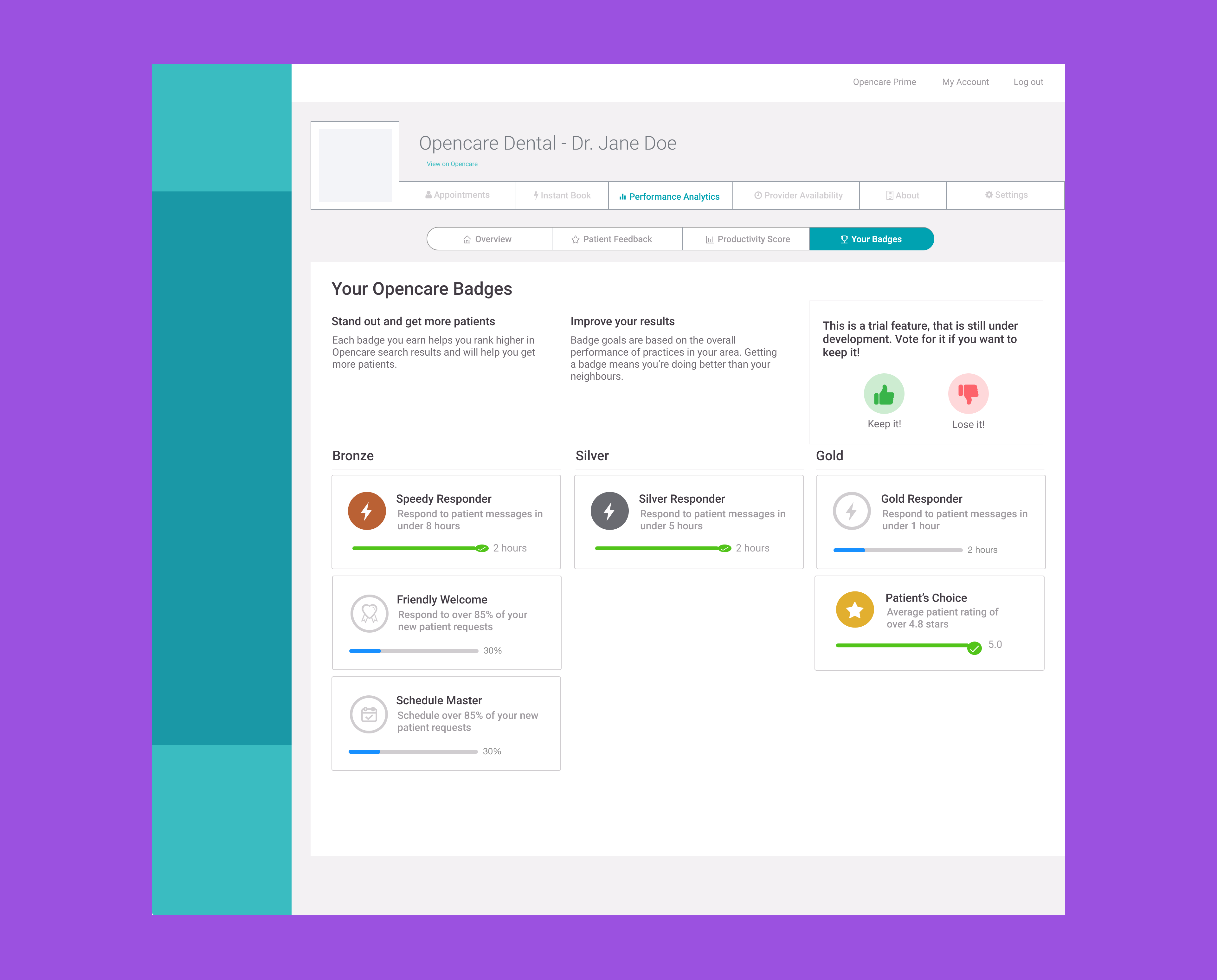 Productivity Scores
Provide a way for practices to see the metrics we were using to measure their success.
This section is more for those personas that do like to see numbers, mainly practice owners.
This section is also helpful for our Customer Success Managers so that they can reference this with practices during quarterly performance reviews.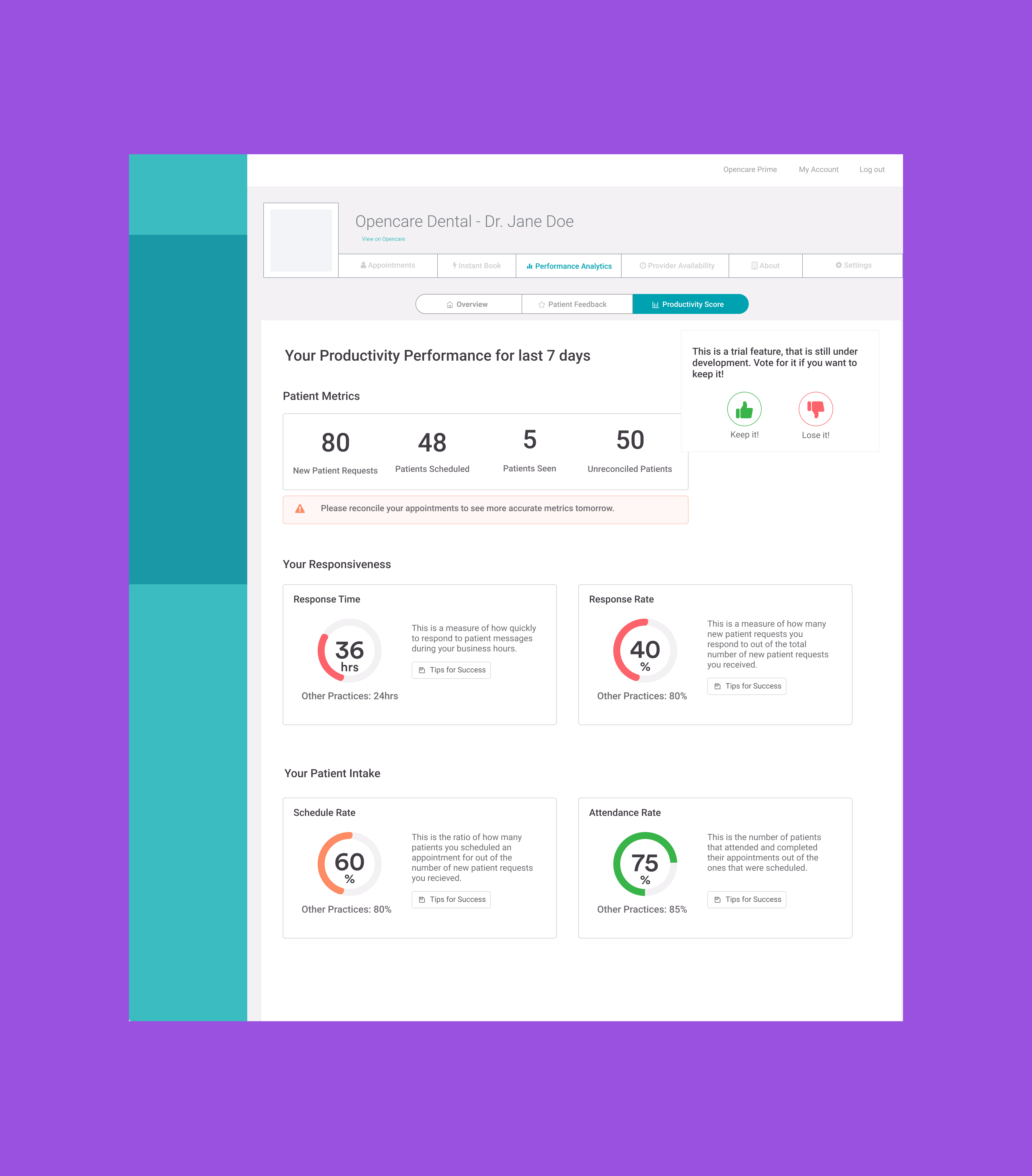 Patient Feedback
Practices were really excited to be able to see the reviews they get through Opencare. Since they already check google reviews for their performance, this was the most familiar version of performance for them.
In the future I would want to include the ability to filter reviews by provider and export reviews. However it was out of scope for the initial version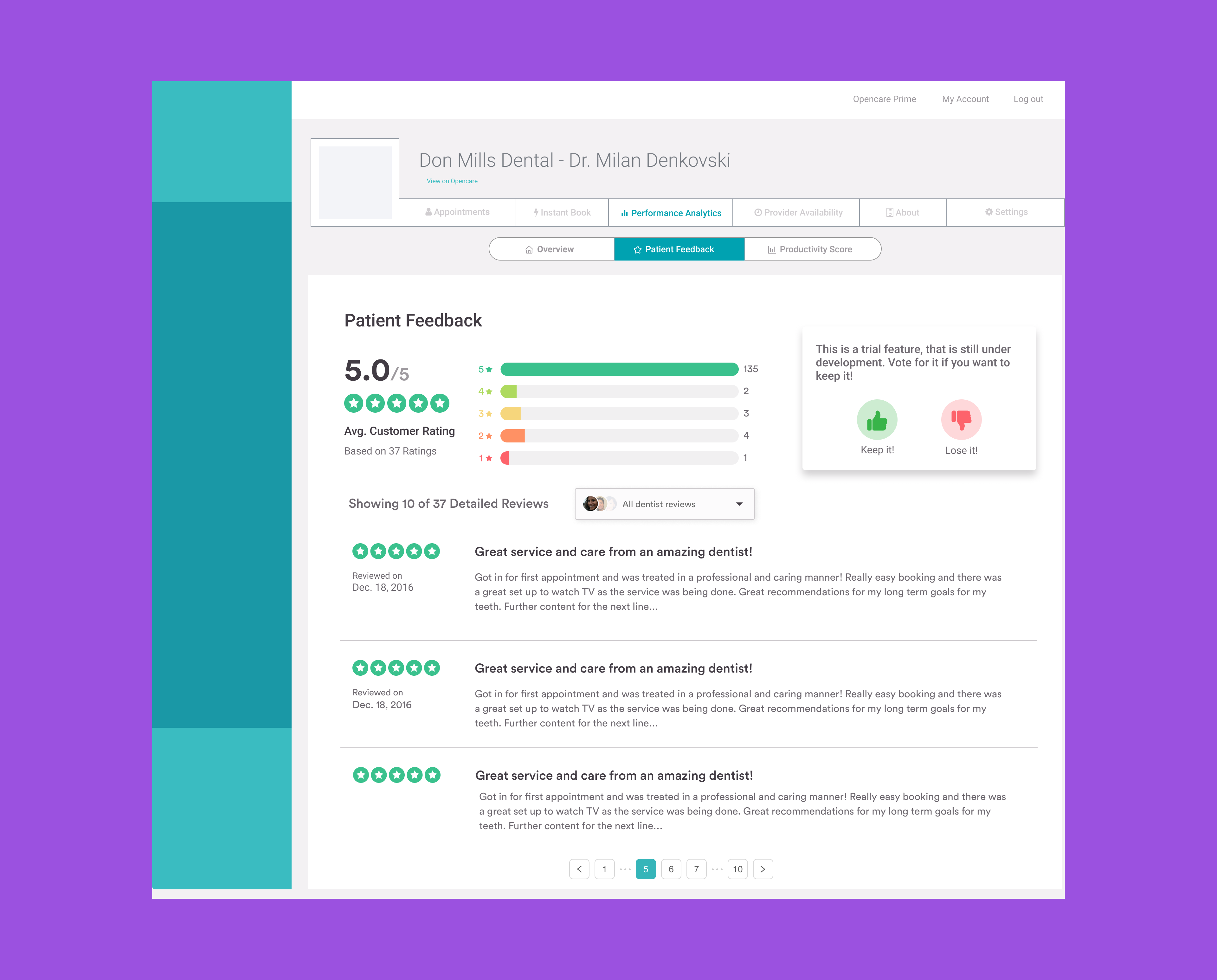 Super Practice
The final piece of the puzzle was the Super Practice Program. This is similar to Airbnb's Superhost program. Practices have to meet a certain set of criteria every month to maintain their Super Practice status. As a Super Practice they get exclusive perks and get higher rankings on search results.
Both dentists and Office managers were very excited about the prospect of getting a Super Practice badge on their profile. They even requested they get a printable award that they could showcase in their physical practices.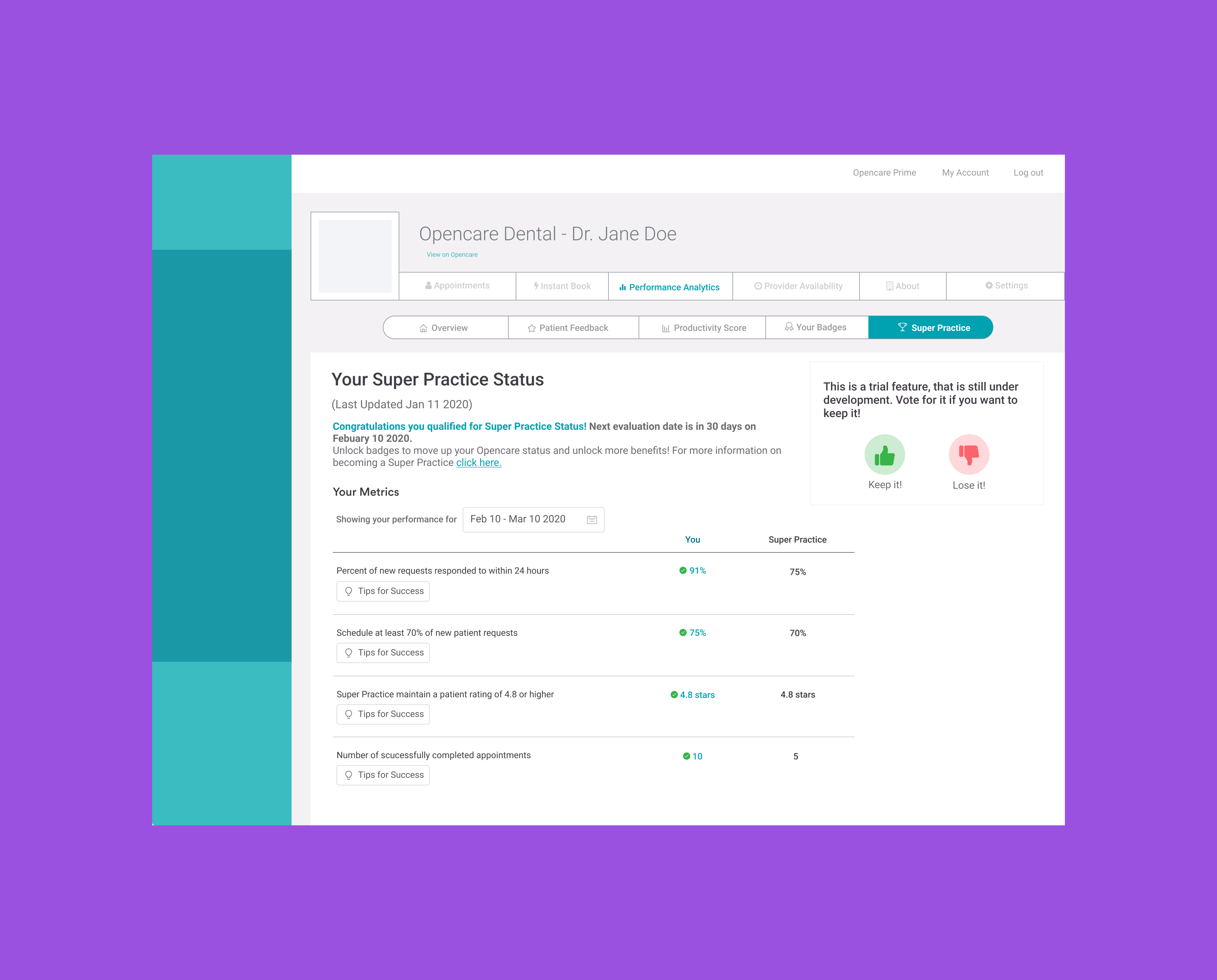 Next Steps
The performance features were released in stages and I did onsite user interviews to get feedback from practices. The main piece of feedback was that the current design was too complicated and difficult to follow. Below are the updated designs for the Productivity Scores and Badges based on the feedback.
Badges v2
Removed tiered rating for badges and just showed progress towards the "gold" goal of the previous design.
Made it clear what the patients would be seeing on the practice's profile since that was the main motivation for practices to get badges.
Added a responsiveness badge that took into account practice office hours.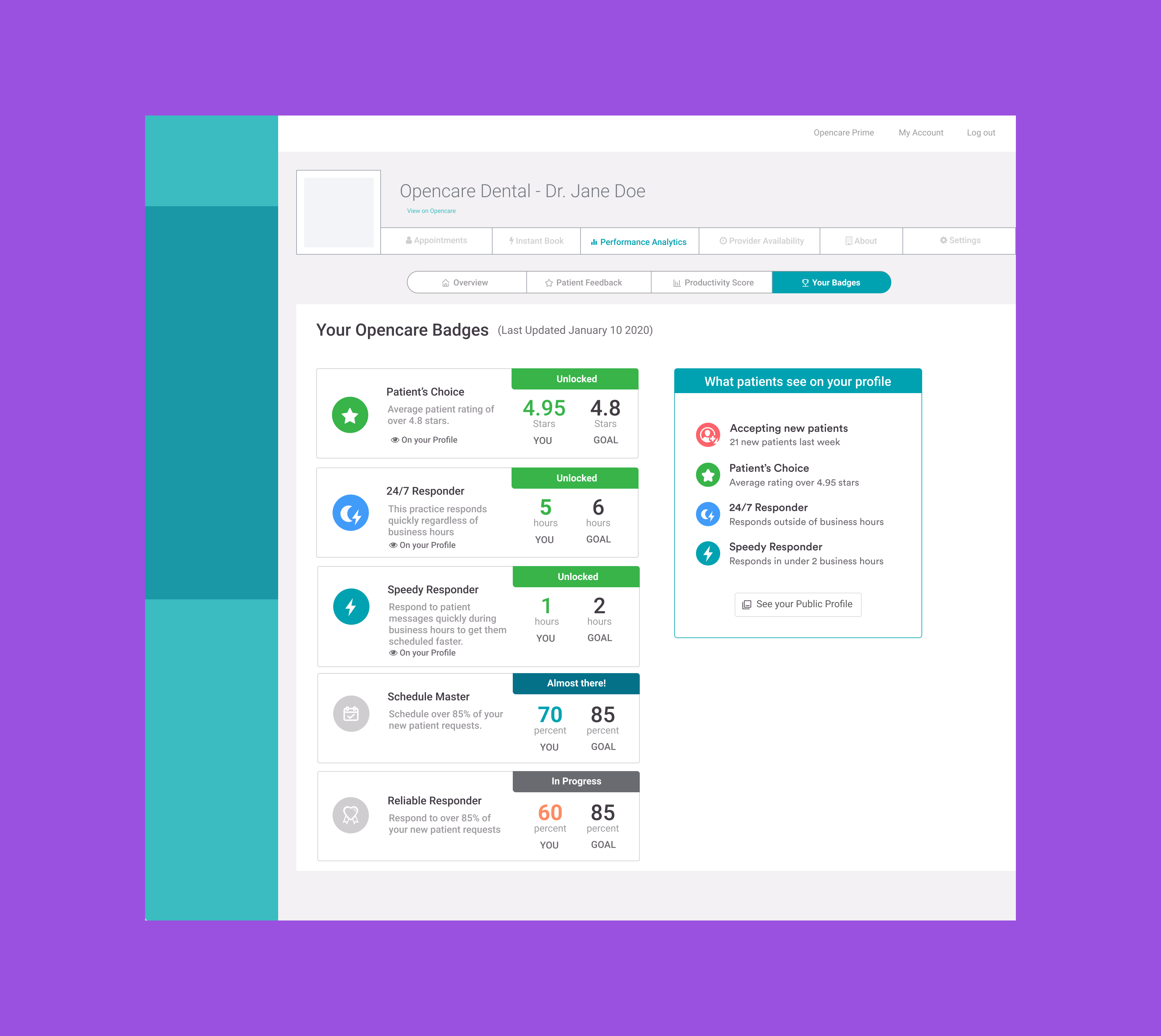 Productivity Score v2
Simplified design to just show coloured badge instead of the circular progress which was unclear.
Added more metrics to help practices evaluate their return on investment from Opencare Patients.
Added a responsiveness metric for response time that took into account practice office hours.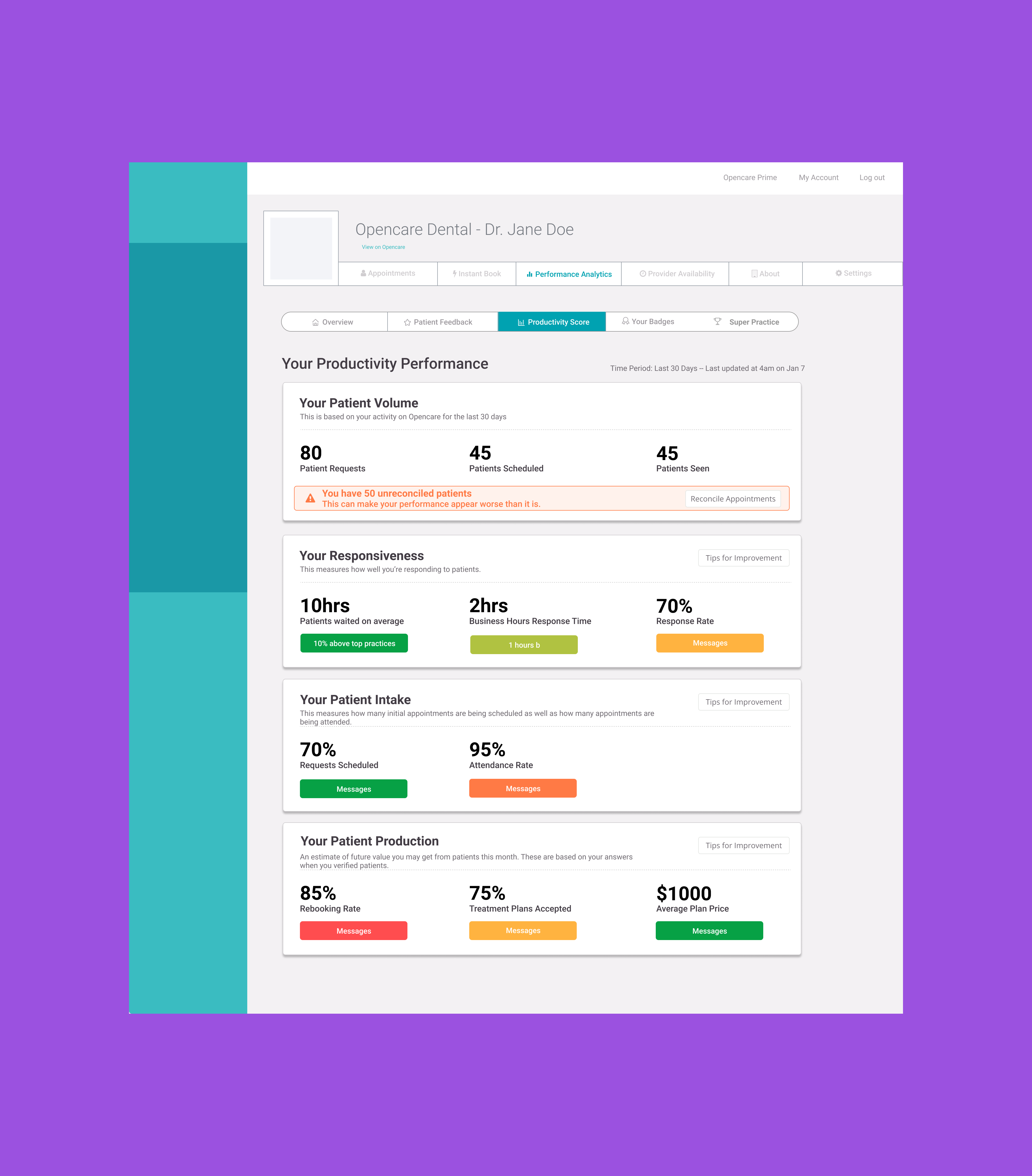 Measuring Success
Qualitatively we did get alot of engagement from practices when we first announced the super practice process.
Based on user interviews and telemetry data we could see that there were a lot of practices that did not know that the performance features existed. This is a sign that we needed to improve discoverability of the features.
Unfortunately we were not able to quantitatively measure the impact of these features since the COVID-19 pandemic forced dental practices to shut down.
Once dental practices are able to accept new patients on the same scale as pre-pandemic it would be great to measure the success of practices that engage with the performance features versus those who don't.